Description
The 2019 Leading Wales Awards® (www.leadingwalesawards.wales) will seek nominations of individuals in Wales (in all sectors and at all levels of responsibility) whose leadership is courageous, inspirational and transformational. This event is to encourage reflection on leadership as well as to encourage participation in our nomination process.
The CPD leadership conversation will explore just what is courageous, inspirational and transformational leadership. What does it look like in practice? Is this the kind of leadership that will help us build a bright future and contribute to building the Wales We Want? Is this the kind of leadership that develops engagement of employees and customers? What do you think?
Our facilitated conversation exploring leadership that displays courage and strength, builds trusted relationships that inspire and influence, and leads to real change will be enhanced with insightful contributions and reflections from:
1. Ben Cottam, Head of FSB Wales,
2. Jo Hicks, Director of Academi Wales,
3. Sophie Howe, Future Generations Commissioner
4. Grant Santos, CEO, Educ8
The event will be chaired and facilitated by Barbara Chidgey, Executive Chair of the Leading Wales Awards and a leadership coach / facilitator.
Our sincere thanks to Joyce Watson AM for sponsoring the event and to the National Assembly of Wales for hosting us.
This CPD event is also open to the Engage for Success Wales network
Here is some pre-event thinking for you as well: The Institute of Leadership &Management have identified 49 components of leadership. Test yourself on one of these components, Self-Awareness, for FREE. CLICK HERE to find out how you stack up.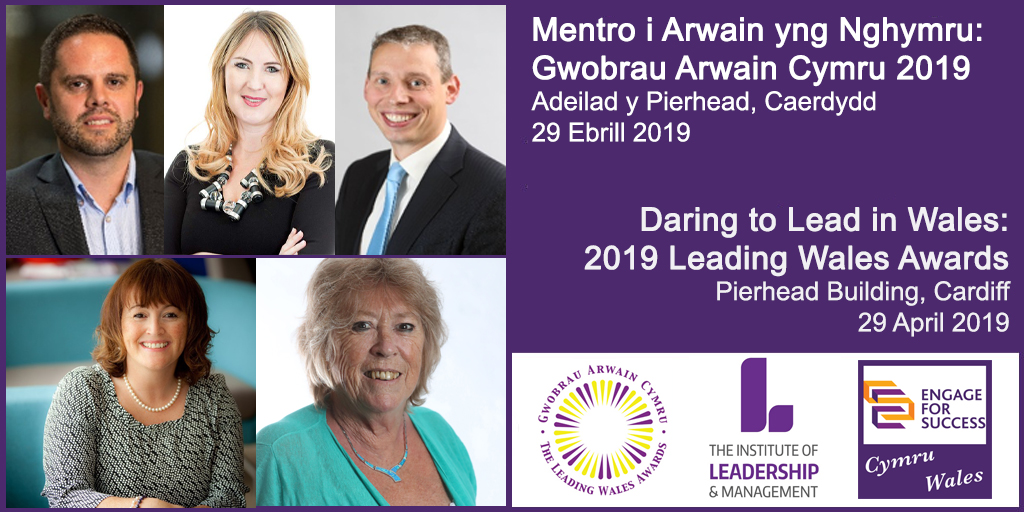 Bydd Gwobrau Arwain Cymru 2019® (www.gwobrauarwain.cymru) yn derbyn enwebiadau unigolion yng Nghymru (ym mhob sector ac ar bob lefel o gyfrifoldeb) sydd ag arweinyddiaeth ddewr, ysbrydoledig a thrawsnewidiol. Mae'r digwyddiad hwn yn ceisio annog myfyrio ar arweinyddiaeth yn ogystal â denu rhagor o bobl i gymryd rhan yn ein proses enwebu.
Bydd y sgwrs ar arweinyddiaeth Datblygiad Proffesiynol Parhaus yn trafod beth yw arweinyddiaeth ddewr, ysbrydoledig a thrawsnewidiol. Beth mae'n ei olygu yn ymarferol? Ai dyma yw'r math o arweinyddiaeth a fydd yn ein helpu ni i greu dyfodol disglair a chyfrannu at adeiladu'r Gymru a Garem? Ai dyma'r math o arweinyddiaeth sy'n datblygu ymgysylltiad gweithwyr a chwsmeriaid? Beth ydych chi'n ei feddwl?
Bydd ein sgwrs wedi'i hwyluso yn trafod arweinyddiaeth sy'n dangos dewrder a chryfder, yn meithrin perthnasoedd ffyddiog sy'n ysbrydoli ac yn dylanwadu, ac yn arwain at newid gwirioneddol, gyda chyfraniadau a myfyrdodau craff gan y canlynol:
1. Ben Cottam, Pennaeth Ffederasiwn Busnesau Bach Cymru,
2. Jo Hicks, Cyfarwyddwr Academi Wales
3. Sophie Howe, Comisiynydd Cenedlaethau'r Dyfodol
4. Grant Santos, Prif Swyddog Gweithredol, Educ8
Bydd y digwyddiad yn cael ei gadeirio a'i hwyluso gan Barbara Chidgey, Cadeirydd Gweithredol Gwobrau Arwain Cymru a hyfforddwr / hwylusydd arweinyddiaeth.
Diolch o galon i Joyce Watson AC am noddi'r digwyddiad ac i Gynulliad Cenedlaethol Cymru am gynnig lle.
Mae'r digwyddiad Datblygiad Proffesiynol Parhaus hwn hefyd yn agored i'r rhwydwaith
Engage for Success Cymru