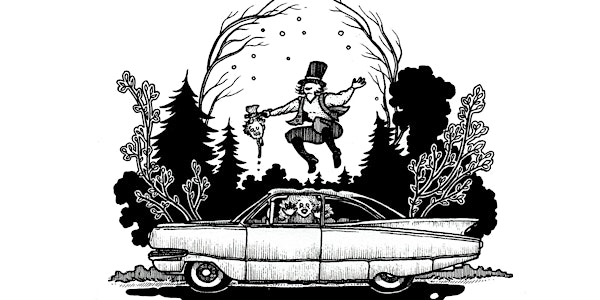 Dark Folklore – an illustrated Zoom talk by Mark Norman
Refund policy
Refunds up to 1 day before event
In this illustrated Zoom talk, Mark will discuss some of the themes which he explores in his most-recent book, 'Dark Folklore'.
About this event
How did our ancestors use the concept of demons to explain sleep paralysis? Is that carving in the porch of your local church really what you think it is? And what is that odd tapping noise on the roof of your car...
The fields of folklore have never been more popular – a recent resurgence of interest in traditional beliefs and customs, coupled with morbid curiosities in folk horror, historic witchcraft cases and our superstitious past, have led to an intersection of ideas that is driving people to seek out more information.
Dark Folklore (The History Press, Oct 2021) is the latest title from Mark (co-authored with Tracey Norman – author of the acclaimed play WITCH). It's a book which leads us on an exploration of those aspects of our cultural beliefs and social history that are less 'wicker basket' and more 'Wicker Man'. Dark Folklore has been consistently in the top 10 bestsellers chart for its genre on Amazon and ranked in the first few thousand of the over 8 million titles listed by that site for sale.
Mark Norman is a folklore author and researcher, creator of The Folklore Podcast which has enjoyed almost 1.5 million downloads since its launch, council member of the Folklore Society and Recorder of Folklore for the Devonshire Association. He is the author of a range of folklore books and the curator of the Folklore Library and Archive.
Your host for this event will be the writer Edward Parnell, author of Ghostland: In Search of a Haunted Country. Edward Parnell lives in Norfolk and has an MA in Creative Writing from the University of East Anglia. He is the recipient of an Escalator Award from the National Centre for Writing and a Winston Churchill Travelling Fellowship. Ghostland (William Collins, 2019), a work of narrative non-fiction, is a moving exploration of what has haunted our writers and artists – as well as the author's own haunted past; it was shortlisted for the PEN Ackerley 2020 prize, an award given to a literary autobiography of excellence. Edward's first novel The Listeners (2014), won the Rethink New Novels Prize. For further info see: https://edwardparnell.com
[Illustration: Tiina Lalje]