DARMOWE KONSULTACJE BIZNESOWE - Battersea i Harrow

Friday, 26 September 2014 at 09:00

-

Saturday, 27 September 2014 at 16:00 (BST)
Event Details
Myślisz o otwarciu własnej firmy ale nie wiesz od czego zacząć...
Masz pomysł na biznes ale brak Ci funduszy na jego realizacje...
Chcesz otworzyć sklep online ale przeraża Cię długa droga do realizacji celu... 
Prowadzisz już firmę w UK ale masz problemy 
z pozyskaniem klientów lub kwestiami podatkowymi....  
Mamy coś dla Ciebie
DARMOWE KONSULTACJE
Z DORADCĄ BIZNESOWYM
Zapraszamy do naszych oddziałów
                     Piątek 26 wrzenia 2014 w godzinach 9:00 - 18:00        na BATTERSEA (SW8 3HE)
                    Sobota 27 wrzesnia 2014 w godzinach 10:00 -16:00       na HARROW (HA1 1BD)

Weź udział w naszym dniu otwartym – nie bój się pytać, jesteśmy po to aby pomóc!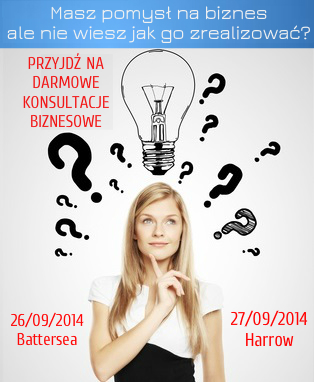 Dzień Otwarty w przystępny, rzeczowy sposób pozwoli Ci zgromadzić informacje niezbędne do formalnego rozpoczęcia i prowadzenia działalności. Pomożemy Ci m.in. przy wyborze odpowiedniej formy organizacyjno – prawnej prowadzenia działalności gospodarczej, optymalnej formy opodatkowania dla twojego biznesu, przeanalizujemy formy i źródła finansowania działaności jak również pomożemy w przygotowaniu biznes planu. 
LICZBA MIEJSC JEST ORGANICZONA
W związku z dużą liczbą chętnych prosimy o rejestracje
na stronie Eventbrite lub mailowo 
wysyłając wiadomość na business@bfsc.co.uk.

 O przyjęciu przez Konsultanta będzie decydować kolejność zgłoszeń! Oferujemy poradę pomiędzy 30 a 45 minut. Nasi Doradcy czekają, aby służyć swoją wiedzą i poradą.
Na ostatnim Dniu Otwartym doradziliśmy 32 Przedsiębiorcom, założyliśmy 9 nowych firmy oraz przygotowaliśmy 5 biznes planów. Dołącz do grona nowych Przedsiębiorców!
ZAPRASZAMY!!!
---
Email: business@bfsc.co.uk
Adres oddziału BATTERSEA: 80 Silverthorne Road, London SW8 3HE, United Kingdom
Adress oddziału HARROW: 79 College Road, Harrow HA1 1BD 
Telefon: 0207 723 9270
www.bfsc.co.uk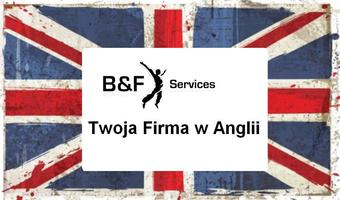 When & Where

Battersea Studios
80 Silverthorne Rd
SW8 3HE London
United Kingdom


Friday, 26 September 2014 at 09:00

-

Saturday, 27 September 2014 at 16:00 (BST)
Add to my calendar
Organiser
B&F Services Ltd.
Expert on business consultancy and services for start-ups
DARMOWE KONSULTACJE BIZNESOWE - Battersea i Harrow