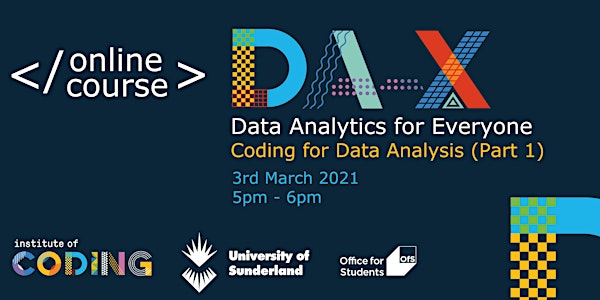 Data Analytics for Everyone: Coding for Data Analysis (Part 1)
Sales Have Ended
Registrations are closed
Registration for this event has now closed. However, you might be interested in some of the other courses that the University of Sunderland / Institute of Coding are running, just go to: www.iocsunderland.com
An introduction to Coding for Data Analytics, a series of 2 one hour online courses
About this event
Have you ever wondered what you could do with the vast amounts of data you are collecting every day? How about if you could use it to, not only better inform the decisions you make, but to improve and potentially transform your business?
Getting intelligent insights into data provides businesses with huge untapped opportunities but can also pose some fundamental challenges. Organisations in the North East are collecting data in increasingly vast amounts – from web traffic to social media, finance systems to CRM applications.
Coding for Data Analytics consists of a series 2 online courses (1 hour in duration) designed by the Institute of Coding (IoC) and University of Sunderland, to help upskill anyone in business who wants to get to grips with understanding and visualising data to inform decision making and drive greater efficiency or productivity within their business.
This 2-part course has been designed for anyone in business (such as administration, marketing, HR, finance, operations etc…) who are keen to gain the practical skills that can help make better use of their data.
Over the course of 2 one hour sessions, you will learn the basics of how to write code to read, clean, transform and visualise data using Python, Jupyter Notebook and Anaconda.
This session will introduce you to the tools and how to write code to read different types of existing data files.
The session on the 9th December will cover how different tools can be used to clean, transform and visualise data (using Panda's and Seaborn)
This Coding for Data Analytic course is part of a series of DA-X (Data Analytics for Everyone) courses running during 2020.
If you are interested in attending other courses which the IoC will be running please visit: www.iocsunderland.com