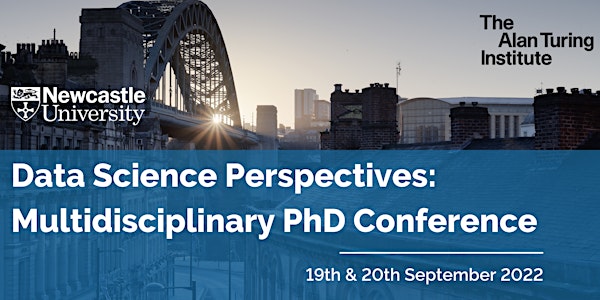 Data Science Perspectives - Multidisciplinary PhD Conference
Location
The Catalyst
Science Square
Newcastle Helix
Newcastle upon Tyne
NE4 5TG
United Kingdom
Newcastle University in partnership with the Turing Institute PhD Conference Monday 19th & Tuesday 20th September 2022
About this event
Newcastle University is delighted to organise and host the 2022 Data Science Perspectives—Multidisciplinary PhD Conference, aimed at PhD students from across the entire Turing Institute network.
Our primary aim in offering this conference is to facilitate network and community building among early-career researchers in data science and AI research areas, whilst also providing an opportunity to share research, build future collaborations and benefit from professional development activities.
Keynote Speaker: Alison Heppenstall, Professor of Geo-computation, Glasgow University
Prior to joining Glasgow, Alison was a Professor of Geo-computation in the School of Geography at University of Leeds and an associate of Leeds Institute for Data Analytics (LIDA). She is an expert in the development of spatial agent-based models (ABMs) with a focus on understanding and simulating behaviour. Her current interests are concerned with linking ABMs to artificial intelligence and machine learning methodologies, the role of Big Data in creating more robust ABMs, and the application of ABMs to understanding the impact of sustainability policies on health inequalities.
This event is supported by The Alan Turing Institute. The Turing is not involved in the agenda or content planning.
The Alan Turing Institute is the UK's national institute for data science and artificial intelligence. The Institute is named in honour of Alan Turing, whose pioneering work in theoretical and applied mathematics, engineering and computing is considered to have laid the foundations for modern-day data science and artificial intelligence.
The Institute's goals are to undertake world-class research in data science and artificial intelligence, apply its research to real-world problems, drive economic impact and societal good, lead the training of a new generation of scientists, and shape the public conversation around data and algorithms.