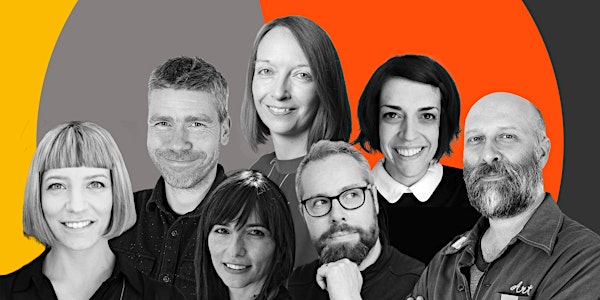 Data visualisation: An immersive two-day masterclass with industry experts
Discover how to create informative and beautiful visualisations that tell compelling stories at this not-to-be missed two-day masterclass
About this event
If you're new to data visualisation, or you want to reinvigorate your knowledge, this two-day digital masterclass will provide you with the tools, motivation and confidence to start using data in new and innovative ways.
Discover through a combination of thought-provoking lectures, hands-on workshops and behind-the-scenes industry insights, how best to structure your information, find the story hidden within, and produce your own stunning visualisations.
Course content
Day 1
2pm – 3pm Fundamental principles of good visual design: Laura Knight will explain the ways we structure information, such as location, time, category, and how these structures can help in producing great designs.
3pm - 4pm Workshop 1: Story finding and Wireframing. Adam Frost and Tobias Sturt will provide you with a choice of datasets and challenge you to uncover the story within. You will start sketching your own wireframes, allowing you to develop your thinking on how to effectively present information, with the option to submit these for feedback.
4pm - 5pm The story of data journalism: award-winning data journalist Simon Rogers will share his insights and experiences in the field, from creating guardian.co.uk/data to becoming the data editor on the News Lab team at Google, with essential tips for anyone looking to develop their career in data visualisation.
At the end of the first day, you will receive a handful of templates, enabling you to start creating your own beautiful visualisations.
Day 2
2pm - 2.30pm InfoDesignLab: Angela Morelli will discuss how she co-founded InfoDesignLab, a socially conscious information design firm, and their approach to recent projects, such as working with the Intergovernmental Panel on Climate Change (IPCC) to communicate climate risk.
2.30pm - 3pm Data visualisation at the Guardian: Theresa Malone will showcase the Guardian Visuals team's latest work and outline the thought processes behind them. She will talk about what data visualisation adds to the Guardian's journalism, the points to consider when taking on a visual project and what decisions are taken in the editing process.
3pm - 4pm Workshop 2: Create your own designs. Adam Frost and Tobias Sturt will task you with producing your own visualisations, using the templates and tools provided at the end of the first day. You will have the option to receive feedback and begin to refine a compelling and attractive visualisation.
4pm - 5pm Data Design: Seeing, Sensing, Stimulating. Learn from award-winning designer Valentina D'Efilippo exactly what it takes to create compelling visuals, and how she become a recognised figure in the industry.
This course is for…
Anyone who needs to communicate information and is looking for more effective and compelling approaches.
Anyone interested in learning how design can make data more engaging, memorable and shareable.
Tutor Profiles
Adam Frost was formerly head of data visualisation at the Guardian's digital agency. He is now content director at Add Two, an agency specialising in data visualisation. His work has appeared on the Guardian, the New Statesman, Buzzfeed and elsewhere. Adam has also produced infographics and interactives for a range of public and private sector clients including the Department for Education, Google and Unilever.
Tobias Sturt was head of creative at the Guardian's digital agency and is now creative director of Add Two. He has been working in digital storytelling for almost two decades using all kinds of media – from web to TV, games and infographics.
Laura Knight is a designer and educator whose research explores the relationship between visual representation and knowledge. She is a Senior Lecturer in the Graphic Design Department at University of the Arts, London. She was previously the Design Director at Data Design Studios where she worked with global clients to tell visual stories with data and images. She continues to work as a consultant and trainer, supporting teams in organisations and businesses worldwide to develop their capacity in visual storytelling and information design.
Simon Rogers is an award-winning data journalist, writer and speaker. Co-host of The Data Journalism Podcast with Alberto Cairo and author of 'Facts are Sacred', published by Faber & Faber around the world. He has also written a range of infographics for children books from Candlewick. Data editor on the News Lab team at Google, based in San Francisco, he is director of the Sigma Data Journalism Awards and teaches Data Journalism at Medill-Northwestern University in San Francisco and has taught at U Cal Berkeley Journalism school.
Angela Morelli is the CEO and co-founder of InfoDesignLab. From climate change to health, she has worked with a wide range of scientific organisations and professionals including the Intergovernmental Panel on Climate Change (IPCC), the European Environment Agency, the Norwegian Institute of Public Health, the Center for Climate Research in Norway and the World Meteorological Organization. Angela gained her MA in Information Design from Central Saint Martins in London. She is a lecturer and an international speaker. She was awarded the Il Monito del Giardino Award in 2013 and was named a 2012 Young Global Leader by the World Economic Forum thanks to her commitment in communicating the science of Water Footprint through information design and data visualisation.
Theresa Malone runs the Visuals team at the Guardian. Her team uses a range of visual techniques to report the news every day, producing maps, charts and explainer graphics in reaction to breaking stories, as well as innovative data storytelling projects and dynamic data visualisations. Over the past 15 years she has worked as an editor across opinion, arts and digital projects at the Guardian.
Valentina D'Efilippo is a graphic designer with a special interest in information design. After studying industrial design in Italy, she moved to London and gained a postgraduate degree in graphic design at the London College of Communication. She has worked with a number of leading agencies contributing to award-winning campaigns for global brands. In 2013 she published The Infographic History of the World.
Details
Date: Thursday 19 May and Friday 20 May 2022
Times: 2pm – 5.30pm on Thursday and 2pm - 5pm on Friday (BST)
Price: £159.20 early bird until 15 April 2022 (plus booking fee); £199 standard ticket (plus booking fee)
This masterclass is available globally. If you are joining us from outside the United Kingdom, please use this time zone converter to check your local live streaming time.
You will be sent a link to the webinar two hours before the start time. Please email masterclasses@theguardian.com if you have not received the access link within one hour of the scheduled start time.
All Guardian Masterclasses are fully accessible but please contact us at masterclasses@theguardian.com if you have any queries or concerns.
Full course and returns information on the Masterclasses website