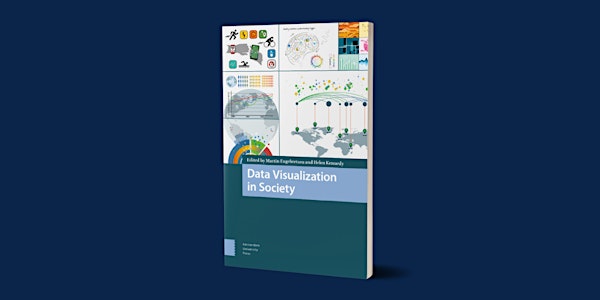 Data Visualization In Society: Virtual Book Launch
Please join us for the virtual launch of Data Visualization In Society, an open access book edited by Martin Engebretsen and Helen Kennedy.
About this event
Today we are witnessing an increased use of data visualization in society. Across domains, graphs, charts and maps are used to explain, convince and tell stories. This is especially true during the coronavirus pandemic, when information is being communicated in simple data visualizations - one of them, the 'flatten the curve' line chart, has even become famous.
In this era in which more and more data are produced and circulated digitally, and digital tools make visualization production increasingly accessible, it is important to study the conditions under which such visual texts are generated, disseminated and thought to be of societal benefit. This book is a contribution to the multi-disciplined and multi-faceted conversation concerning the forms, uses and roles of data visualization in society. Do data visualizations do 'good' or 'bad'? Do they promote understanding and engagement, or do they do ideological work, privileging certain views of the world over others? The contributions in Data Visualization In Society engage with these core questions from a range of disciplinary perspectives.
If you would like to attend, please register using the link on the right. A link to the event will be emailed to you two days' prior to the event.
For more information about the book, click here.
Endorsements
"This book offers unique and much needed perspectives on data visualization culture. While most books still approach the subject in a practical 'how to' way, Data Visualization In Society offers a range of critical reflections on key social and cultural dimensions of visualization culture. This is the book we have been waiting for."
Lev Manovich, Professor of Computer Science, The Graduate Center, City University of New York & Director, Cultural Analytics Lab
"The articles in this expertly edited volume make a crucial contribution to critical studies in the area of data visualization. Focused on a broad range of topics including activism, literacy, accessibility, social disparity, gender politics, and professional practices, the papers demonstrate in case after case the rhetorical power of visualizations and the need to engage critically with that power."
Johanna Drucker, Breslauer Professor and Distinguished Professor of Information Studies, UCLA
"I often joke—although I'm inclined to believe—that a field X reaches maturity when a parallel field of 'philosophy of X' springs into existence. […] Data Visualization in Society is a collection of chapters by scholars and professionals who don't call themselves philosophers of visualization but who, in practice, operate as such. I see this book as a relevant step toward the possible inception of the philosophy of data visualization as a discipline."
From the Foreword by Alberto Cairo, Knight Chair at the University of Miami and author of 'How Charts Lie.'