Description
We are pleased to announce that ONS will be hosting our second data impact and networking event on 22 November 2018.
10:00 – Welcome and Scene Setting
10:10 – Research Excellence Awards - Shortlisted Presentations
11:00 – Break
11:20 – Research Excellence Awards - Shortlisted presenter Q&A
11:50 – Panel Discussion
12:30 – Lunch and Networking
13:20 – Ben Page – Ipsos Mori
13:45 – Robert Cuffe - BBC News
14:10 – Breakout Sessions
14:50 – Break
15:00 – Award Presentations
15:30 – Closing Thoughts
16:00 – Event Close
The UK is facing a multitude of social and economic challenges from Brexit to the desire to create a fairer society by efficient and affordable public services. Understanding and evaluating the impact of change will be critical to those needing to make informed decisions regarding the UK economy, society and people's quality of life.
This event will explore and recognise examples of where the use of research data is delivering a public benefit and explore opportunities to encourage innovative use of these data.
The programme includes guest speakers:

Ben Page, Ipsos MORI
Ben Page, Chief Executive of Ipsos MORI. He joined MORI in 1987 after graduating from Oxford University in 1986, and was one of the leaders of its first management buyout in 2000. A frequent writer and speaker on trends, leadership and performance management, he has directed thousands of surveys examining consumer trends and citizen behaviour.
Ben will examine social and political trends in 2018, including why it is becoming harder to govern Britain
He will look at The Perils of Perception – why so many of us are so wrong about so many things and the challenges facing survey research in an age of the crisis of trust.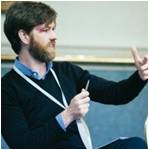 Robert Cuffe, BBC
Robert Cuffe, Head of Statistics at BBC News. Before joining the BBC, he was head of statistics at ViiV Healthcare, a pharmaceutical company, and chair of the UK pharmaceutical statistics industry body, PSI. He sits on the Professional Affairs Committee of the Royal Statistical Society and worked with the Science Media Centre to found a statistical briefing service on health stories for the lay media.
Robert aims to give delegates a better feel for how the BBC processes outputs in order to improve communication between producers and (one set) of consumers of statistics.

There will also be a panel session chaired by Sarah Henry, Director of Methods and Research at the Office for National Statistics (ONS) alongside Stephen Meredith, Head of Higher Education Analysis at the Department for Education (DfE), Tom Knight, Chief Statistician at the Department for International Trade and Liz McKeown, Director of Public Policy Analysis at ONS. This will aim to address issues facing the research community in Trade and Investment, Health and Education. These themes will then carry into breakout sessions which will aim to explore the issues and opportunities raised. We will endeavour to get everyone on the breakout session of their choice but places will be allocated on a first come first serve basis.
ONS Research Excellence Awards 2018
We will be presenting 2 awards at the event.
-The ONS Research Excellence Award chosen by our Awards Panel
-The ONS Research Excellence People's Choice Award, chosen by the research community.
Five shortlisted entries for the ONS Research Excellence Award will have the opportunity to present a summary of their research to event delegates.
Shortlisted entries:
Brad Speigner, Bank of England – "Using job vacancies to understand the effects of labour market mismatch on UK output and productivity"

Simon Conroy, Elizabeth Fisher, Leicester Uni/Nuffield Trust – "Development and validation of a Hospital Frailty Risk Score (HFRS) focusing on older people in acute care settings using Hospital Episode Statistics: an observational study"

Emma Turner, Bristol Uni - "Effect of a Low-Intensity PSA-Based Screening Intervention on Prostate Cancer Mortality. The CAP Randomized Clinical Trial"

Philip Wales, ONS – "Trade in goods and productivity in the UK: New findings"

Laura Gardiner, Resolution Foundation – "Resolution Foundation, A New Generational Contract, The final report of the Intergenerational Commission, May 2018 (covering pensions, housing, earnings and employment, demographics and wealth.)