Description
Having trouble ordering tickets? Email taxcom@democratsabroad.org.uk or call 0203 514 1410 x301 Leave your name AND a contact telephone number. A DAUK volunteer will call you as soon as they can to assist you in making your reservation.
Democrats Abroad UK (DAUK) Tax Committee is proud to present the first-ever Tax Day. Tax Day will be an all-encompassing event covering topics ranging from tax, financial planning, and social security. The aim of this event is to help Americans abroad understand tax filing obligations and the financial complexities around being an American living abroad.


The full program for Tax Day is now available to view and download here.

Commonly asked tax questions will be addressed such as:
When is the tax filing deadline for Americans living outside the U.S.?
How much do I need to earn to file?
How much do I have to earn in order to be double taxed?
How do I manage my US student loans while living abroad?
Can I open an ISA, SIPP or 529?
Do I have to pay capital gains tax to the IRS when I sell my UK home?
Do I get double taxed if I'm self-employed in the UK or have a UK Limited Company?
What US tax forms do I need to submit to the IRS if I'm retired?

This event is for you if:
you just moved to the UK from the US and you're unsure of your tax obligations
you haven't filed for decades
you're scared to face your tax filing obligation or don't know what questions to ask to get started
you've filed for years but you're not sure if you're doing it right, or
you've filed every year but you've wanted a straightforward answer for a specific issue.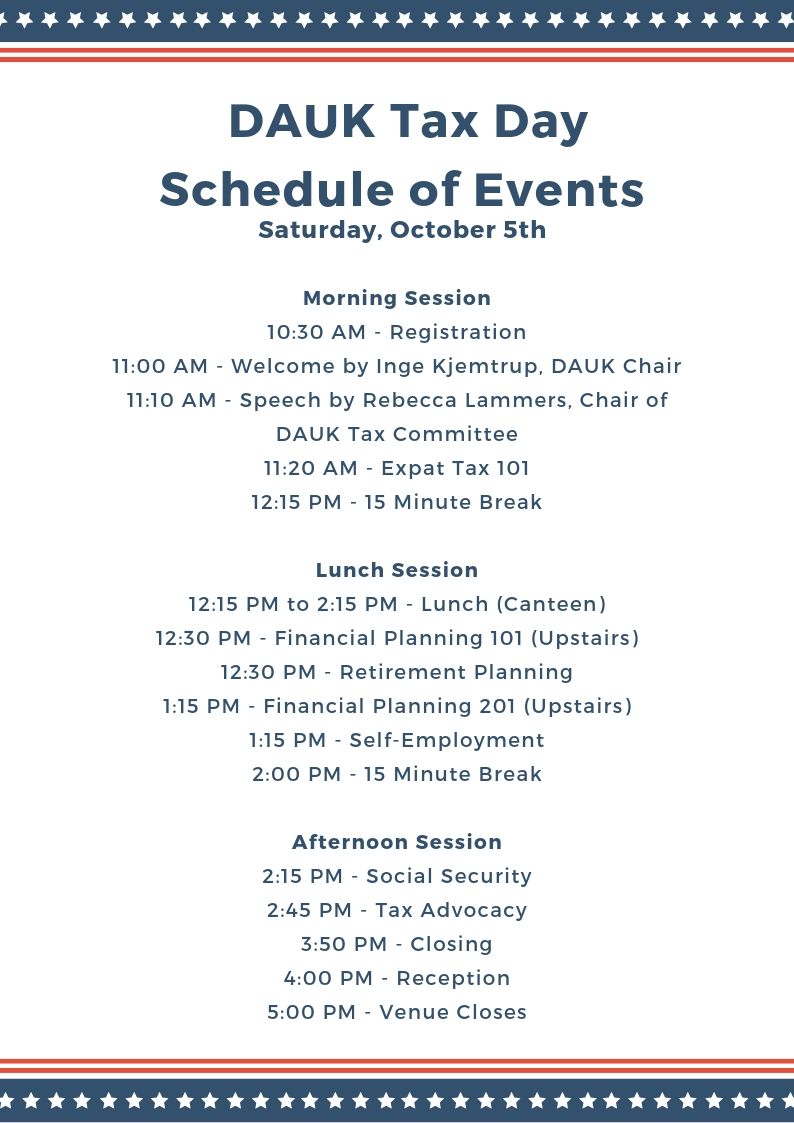 Speakers confirmed are:
Charles Bruce, Legal Counsel @ American Citizens Abroad
David Costello, Partner @ Tanager Wealth Management
Brian Dunhill, International Financial Advisor @ Dunhill Financial
Gillian Everall, Managing Director and Head of Private Client Tax Services @ Everfair Tax
Nathalie Goldstein, CEO @ MyExpatTaxes
Jeffrey Gould, Director @ Frank Hirth
Kristopher Heck, Managing Partner @ Tanager Wealth Management
Neil Kearney, President @ AARO
George King, Senior Wealth Manager @ MASECO
Jack Leuchtman, Regional Federal Benefits @ Social Security Administration
Chris McLemore, Attorney @ Butler Snow

Malcolm Offord, US/UK Tax Advisor

Nathan Prior, Partner & Head of International @ Partners Wealth Management
Susan Shriver, Enrolled Agent, US Tax Consultant (former IRS)
David Treitel, Founder and Managing Director @ American Tax Returns
Andrew Vaughan-Payne, Director @ Waverton Investment Management
Liz Zitzow, MD @ British American Tax

Please email any questions in advance to taxcom@democratsabroad.org.uk

If you are unable to attend this event, please email taxcom@democratsabroad.org.uk to be added to the mailing list to keep up to date on future events and news on Democrats Abroad UK tax advocacy work.

Disclaimer: DAUK cannot provide individual tax advice. Advice requires consideration of your individual circumstances and needs, none of which can be done at this event. We are not tax lawyers, accountants or advisers. Please consult a professional tax adviser/accountant/return preparer when addressing your personal tax matters.
DAUK does not endorse or recommend companies or individuals attending or hosting this event. The views expressed at the event are those of the respective individuals and companies, not DAUK. No liability is accepted by DAUK for the opinions expressed, or for any errors or omissions expressed about matters of tax in any country, your financial planning, or your legal obligations.
We recommend the ACA Tax Return Preparer Directory to find a service provider who meets your needs and budget, though buyers need always beware. Democrats Abroad suggests Americans abroad in need of tax advice consult the ACA Tax Return Preparer Directory to find an advisor or tax return preparer near you or providing online services: http://acareturnpreparerdirectory.com