David Ford lecture: Jesus – Reliably Surprising, Generously Orthodox
About this Event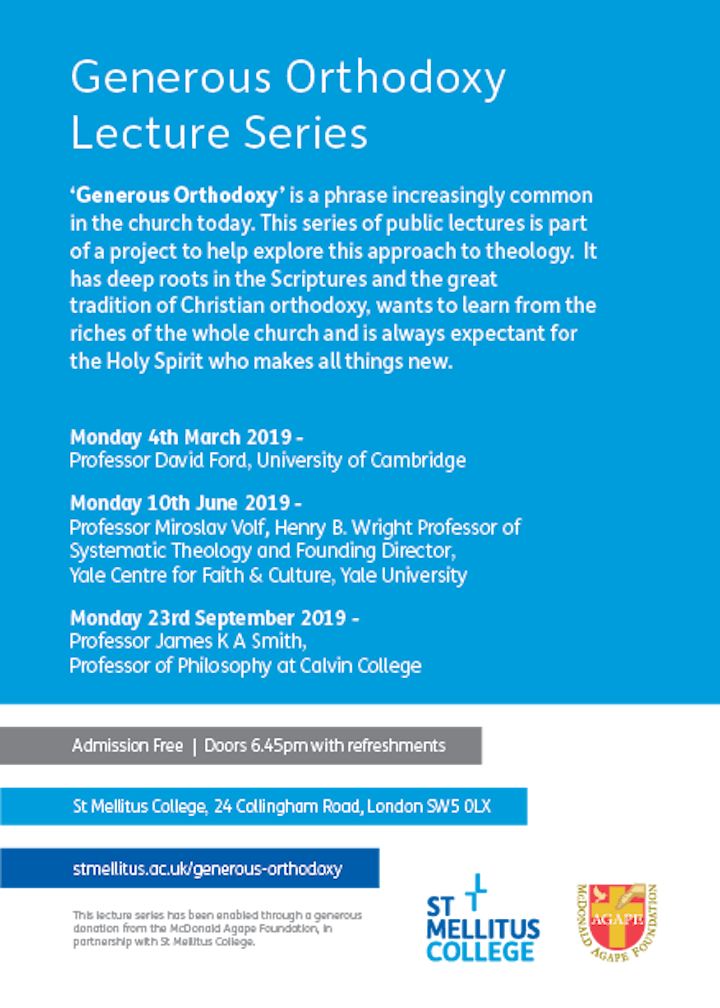 Jesus – Reliably Surprising, Generously Orthodox
Jesus is, simultaneously, both utterly reliable and continually surprising. He is the embodiment of a God-centred, Spirit-filled orthodoxy that invites us into an abundant life, enabling daring, loving generosity. This lecture suggests that Hans Frei, who described his own theology as intended to be generously orthodox, is the most important twentieth-century North American theologian for the twenty-first century. Three main thrusts of his theology – his work on the identity of Jesus Christ, his account of why so much eighteenth and nineteenth century interpretation failed to do justice to the Gospel narratives, and his five-type map of modern Christian theology – come together in an account of Jesus Christ that distils for our century the best both of classical and of twentieth-century Christian theology. I then propose an account of Jesus that moves beyond Frei, inspired by the way the Gospel of John moves through and beyond the other three Gospels.
6:45 doors open
7:15 lecture
8 break, followed by Q & A
David F. Ford OBE is Regius Professor of Divinity Emeritus in the University of Cambridge and a Fellow of Selwyn College.
Alongside continuing work on Christian theology and on inter-faith relations, Professor Ford's current research and writing includes work on: the Gospel of John; theology, modernity and the arts; religion-related violence; contemporary worldviews; Scriptural Reasoning; education in schools and universities; and theology and learning disability.
His publications include: The Drama of Living (Canterbury Press, 2014); Interreligious Reading After Vatican II (Co-edited with Frances Clemson, Wiley Blackwell, 2013); Theology: A Very Short Introduction (2nd edition, Oxford University Press, 2013); The Future of Christian Theology (Wiley-Blackwell, 2011); The Modern Theologians Reader, ed. with Mike Higton and Simeon Zahl (Wiley-Blackwell, Oxford 2011) Musics of Belonging: The Poetry of Micheal O'Siadhail. Edited with Marc Caball. With a chapter on 'Life, Work, and Reception', pp. 1-24 (Carysfort, Dublin 2006); Christian Wisdom: Desiring God and Learning in Love (Cambridge University Press, 2007); Shaping Theology: Engagements in a Religious and Secular World (Blackwell, 2007); The Modern Theologians (3rd Edition edited with Rachel Muers, Blackwell, 2005); Living in Praise - Worshipping and Knowing God, with Daniel W. Hardy (2nd Edition, Darton, Longman and Todd, London 2005); The Shape of Living (2nd edition, Baker Books, Grand Rapids 2000); Self and Salvation: Being Transformed (Cambridge University Press 1999); Meaning and Truth in 2 Corinthians, with Frances M. Young (SPCK, London 1987; Eerdmans, Grand Rapids 1988; reprinted by Wipf & Stock, Eugene [Oregon], 2008); Barth and God's Story. Biblical Narrative and the Theological Method of Karl Barth in the Church Dogmatics (Peter Lang, Frankfurt-am-Main, Bern, New York 1981; reprinted by Wipf & Stock, Eugene [OR], 2008).
He is married to Revd Deborah Ford (née Hardy), who is an Anglican priest and a psychotherapist; and they have three children, Rebecca, Rachel and Daniel, and one grandchild, Solomon.