Andy Billman's photo exhibition Daylight Robbery documents the bricked-up windows of London, examining natural light's role in architecture.
About this event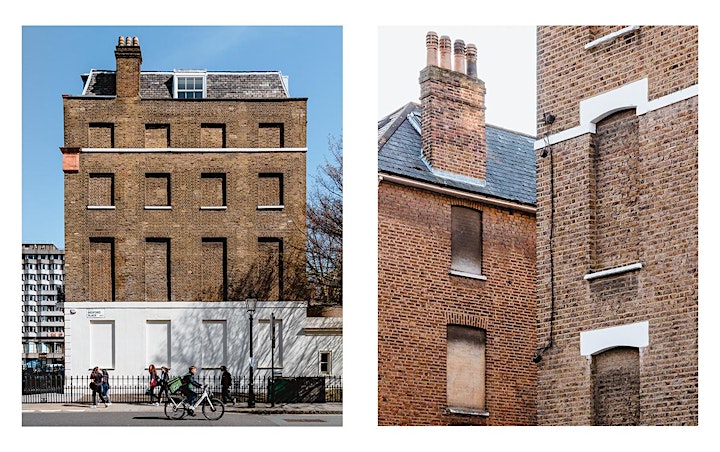 Andy Billman's photographic series Daylight Robbery documents the bricked-up windows of London, examining the role that light and air play for our wellbeing in the spaces we inhabit for his debut exhibition with the London Festival of Architecture 2021.
Originally photographing the overlooked bricked-up windows in appreciation of their visual form, he discovered that many of these windows would have been blocked off to avoid the Georgian-era Window Tax, which stipulated that the more windows one had, the more one had to pay.
The blocked up windows - remnants of a time when a price was actually placed on light and air - have particular resonance with life during lockdown. Over the past year, windows have been a priceless source of wellbeing; offering sunlight, fresh air and a means to interact with the outside world. Beyond reflecting on these visual forms and structures created in the past, the work inspires a greater consideration for light sources we create in our spaces today.
All exhibited works are available as limited edition prints.
Print Sales - Digital Catalogue here.

Booking & Events
Entry is free for all and advance booking is not required, though registering does help us to keep track of numbers & for saving the date. For more information and updates on exhibition events, or to book a private tour for your practice or organisation please contact andybillman@gmail.com
Opening times
Tuesday 22nd June - Saturday 26th June
11am - 6pm daily or by appointment
Accessibility
Daylight Robbery is on the 1st floor, accessible via stairs only. Please ring the doorbell if the door is not already open. If you have any specific access requirements please feel free to call the gallery or get in touch via andybillman@gmail.com to discuss beforehand.
Organiser of Daylight Robbery - London Festival of Architecture 2021
Andy Billman is a London-based photographer with a curiosity for built environments and the spaces we find ourselves in. His images explore the interaction between constructed forms and our surroundings, inviting a closer reading of our relationship with the environment that often goes overlooked.