Join this lovely art class, where you will learn different tips, techniques and engaging topics with guidance in a supportive environment.
About this event
Come and join this block of 6, Relaxing Art Classes lasting 2 hours, including a hot drink. Rebecca Jayne a local, professional Artist will guide you through some helpful tips and techniques with the focus on observational skills and experimentation. You will bring your own materials and use a range of materials over the 6 sessions including pencils/watercolours or watercolour pencils/pastels/Paint, building up a bank knowledge whilst encouraging you to enjoy the creative process in a supportive environment.
There will be a balance of artist demonstration and time to practice techniques, ask questions and receive gentle guidance, helping you to feel more confident.
Each session takes place in a well lit, spacious, open ground floor room which is accessible to wheelchairs and mobility scooters, accessed easily from the front entrance, with toilets and disabled toilets on the same level, just outside the room itself.
You will receive a complimentary drink on arrival and midway through the session. It will be no trouble to have a drink made for you if mobility is an issue for you.
A wonderful way to develop your creativity, develop your confidence, skills and knowledge of practical Art over the Summer months as well as establishing a mindful hobby.
Covid safe guidelines are in place and the large space ensures a 2 meter distance between tables. All guidelines and materials details will be sent to you following booking.
This would also make a lovely gift Experience for a loved one, friend or family member and Special Gift Vouchers can be sent to you for this purpose.
Photo September 2020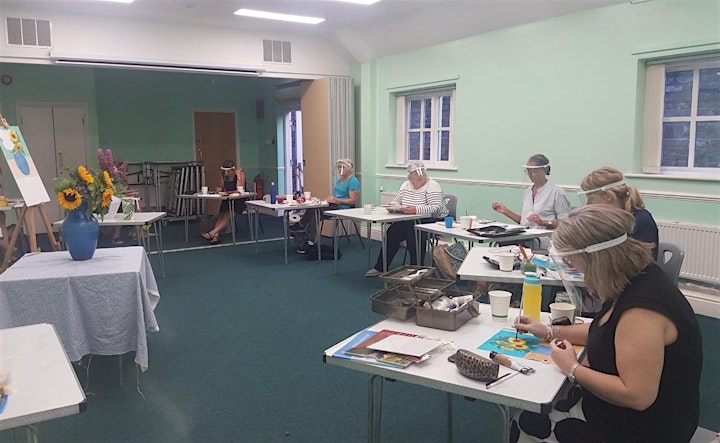 Organiser of Daytime Art Class- One of 6 sessions
Fine Artist lives near Thirsk North Yorkshire with her family.
Work in oils is a vibrant Celebration of the beauty of nature and seasonal landscapes of the North York Moors and surrounding areas.
She also paints contemporary landscapes in mixed media, in acrylic and metal leaf with a wellbeing focus.
Rebecca Jayne raises awareness of charities which support wellbeing through her exhibitions and her Artisan Market Stalls
She has over 20 years teaching experience and guides people to enjoy the process of art in a gentle, calm and relaxed atmosphere, whilst sharing tips and techniques to help grow confidence  through her workshops and art classes.