Description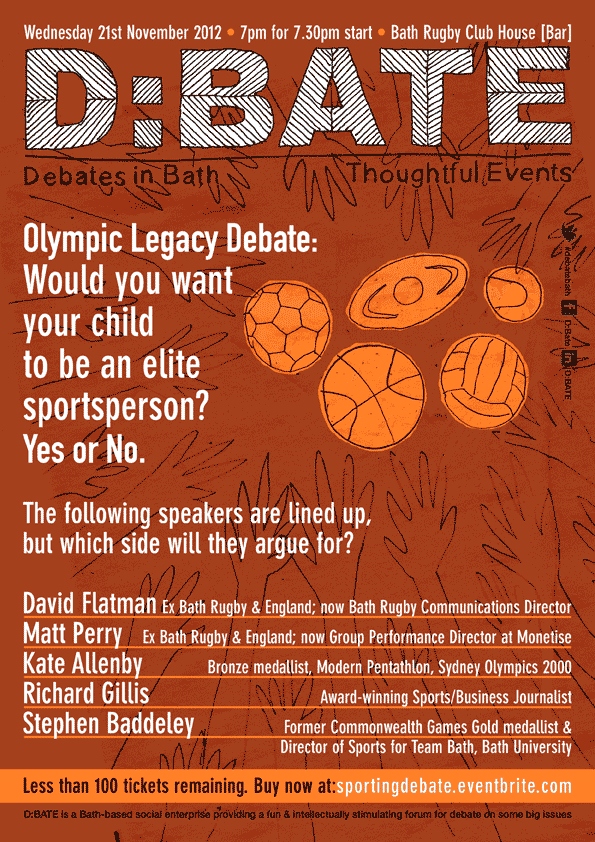 The summer of 2012 will be forever remembered as the glorious 'Summer of Sport'. GB Ltd showed the world it could host an A-list event par excellence, Team GB delivered in spades, the volunteers shone and the national 'feel good' factor was as good as it gets.
But behind all this, how many of us really know what it takes to compete at the highest levels? For every Mo Farah, Sir Chris Hoy MBE or Jonny Wilkinson, how many sportsmen and women lie broken in their wake with shattered dreams and dysfunctional second careers? To what degree did the reputed £5m invested in each Olympic medal won really benefit the individual athletes themselves ... as opposed to the sponsors and glory-basking politicians. And - bearing in mind success is usually groomed from early childhood - to what extent does the pressure of expectation (from parents, coaches and fans), and the 'one track' routine/commitment required, prevent a 'rounded person' from emerging at the end? Finally, what can we learn from the Lance Armstrong story with regards to how far some elite athletes are prepared to go ... to take the accolades and prize money?
This one-off event will take a look at this fascinating topic through the eyes of sporting legends and expert commentators:
David Flatman; ex Bath Rugby and England Rugby prop
Matt Perry; ex Bath Rugby and England Rugby's most capped full back
Kate Allenby; Olympic Bronze medallst, Modern Pentathlon, Sydney 2000
Stephen Baddeley; Commonwealth Games Gold medallist and Director of Sports for Team Bath, Bath University
Sharron Davies MBE; BBC Commentator and British Swimming legend.
Richard Gillis; an award-wining sports and business journalist (The Wall Street Journal, Irish Times etc)
Linda Blair; Clinical Psychologist
The motion debated by two teams will be:
'Would you want your child to be an elite sportsperson? Yes or No?'
The surprise of who will be arguing for each side ... we will hold for the evening!
STOP PRESS - we are also likely to be joined by another Olympic legend. You will not want to miss this event. Tickets are limited and expected to go quickly so book in advance to reserve your place at what will be a unique event in the Bath D:BATE series.
IF YOU ARE AN ATHLETE, A SPORTING FAN OR THE PARENT OF A POTENTIAL SPORTING STAR ... YOU WILL NOT WANT TO MISS THIS EXCLUSIVE EVENT!!
Location: Bath Rugby Clubhouse
Doors open at 7pm for 7.30pm start. Bar available. Event concludes at 9pm with bar remaining open on completion ... to continue the debate!
Tickets are £8 in advance or £10 on the door (if indeed we have any tickets remaining!).
Concession tickets (Students, senior citizens) are £5 in advance, £7 on the door.
Sponsored by [Click logo for more]: