An explosive celebration at Leicestershires most iconic electronic music dancehall.
About this event
If you would have told us that we'd be writing this 13 years ago. We'd have laughed in your face, but here we are.
13 years of putting parties on and evolving throughout. From a function room above a pub on Nottingham road, Loughborough (Long live the Greyhound Inn) to the most iconic dance music hall in Leicestershire. We've seen a lot and been to a lot of venues, Towns, Cities & Countries. This one feels extra special after such a turbulent time for everyone.
To be able to invite these certified legends from the electronic music world. Really does make us proud of what we've achieved to date.
Boys & Girls we cordially invite you to celebrate with us on Thursday 16th December and dance to legends old and new. With friends. Together. As one big raving family.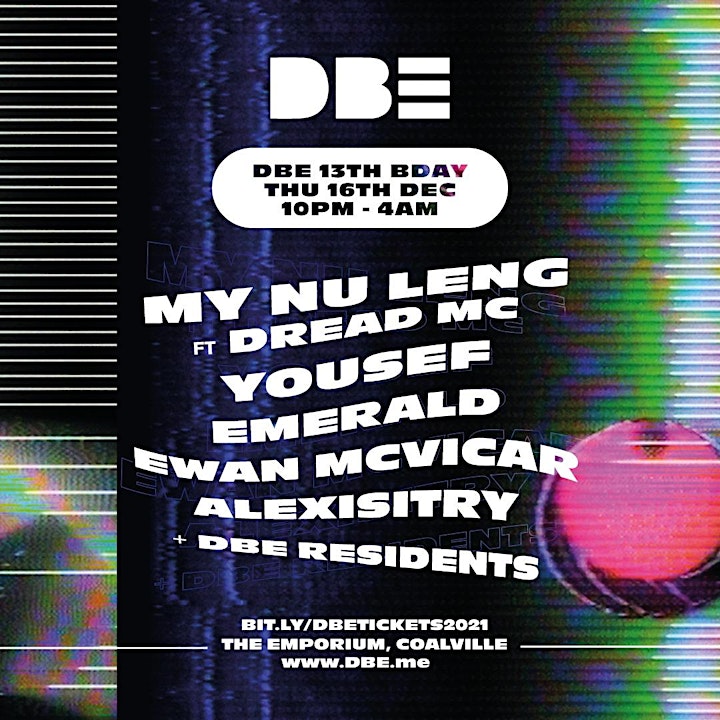 DBE 13TH BIRTHDAY
16.12.2021
The Emporium, Coalville
22:00 - 04:00
📣 MY NU LENG ft Dread MC
📣 YOUSEF
📣 EMERALD
📣 EWAN McVICAR
📣 ALEXISITRY
Plus DBE Residents + Friends
Pasquale
Jake Twell
Sleazy Wonder
Overproof
Hancock
Swalsh
Hi Phi
J GUY
Samiad
R:Kade
J-Silks
Organiser of DBE: 13th Bday / My Nu Leng / Yousef / Emerald / Ewan McVicar / Alexisitry
Loughborough, Leicester & London party starters
www.DBE.me
FB: www.facebook.com/dbeloughborough
IG: www.instagram.com/DBELoughborough 
TW: www.twitter.com/DBELoughborough
Snapchat: DBELoughborough
E: dubboroevents@gmail.com
TEL: 07921 023082