DBSNA 8th International Conference - 11 and 12 November 2021
Join us on Thursday 11 and Friday 12 November for the 8th International Deep Brain Stimulation Nurse Association Conference.
About this event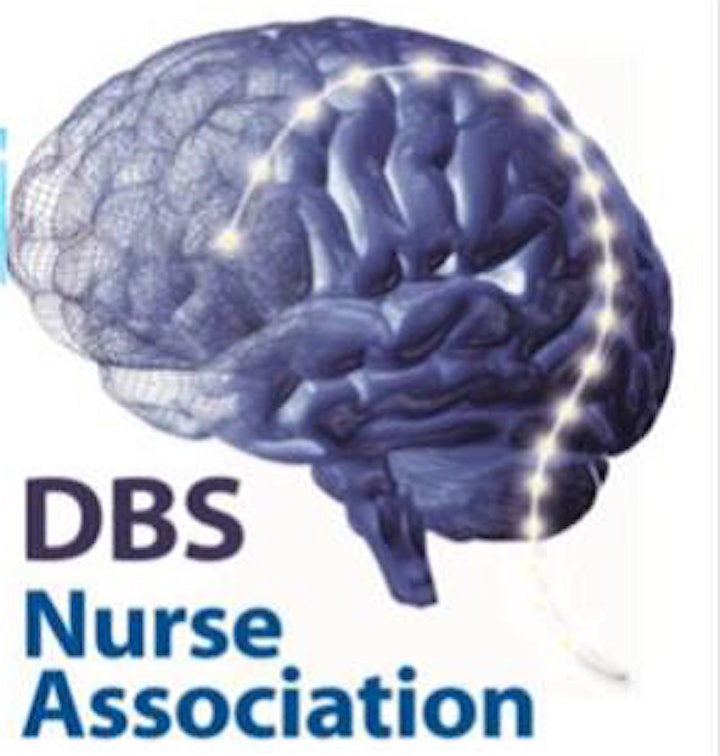 Join us on Thursday 11 and Friday 12 November for the 8th International Deep Brain Stimulation Nurse Association (DBSNA) Conference.
The conference is being hosted by the DBS Specialist Nurses from Oxford University Hospitals NHS Foundation Trust.
The conference will begin on Thursday 11 November from 11.00am to 5.00pm, and will continue for a second day on Friday 12 November from 9.30am to 4.00pm.
Over the course of the two days, we will be hearing from a range of expert speakers on a variety of topics, including the wider multidisciplinary team's (MDT)involvement in the care and assessment of patients with DBS, the development of the DBS nurse competencies, MRI imaging, and much more.
We are also pleased to welcome sessions from pharma companies, Medtronic, Boston Scientific and Abbott on day 1 of the conference.
The final agenda for Day 1 and 2, including confirmed speakers and timings is now available to view below.
We are really looking forward to welcoming you all to the conference and hope you find the two days educational and inspiring.
The aims of the conference are as follows:
Delegates will have a greater understanding of the assessment and support offered to the DBS patient by the wider MDT.
Delegates will feel better equipped with how to assess those individuals with functional movement disorders.
Delegates will develop increased knowledge of the anatomical structures on MRI imaging.
Delegates will have the opportunity to network with colleagues from the field of DBS, helping to strengthen connections and communication across the different DBS centres.
Registering for the conference:
We are delighted to inform you that this year the meeting will be hosted as a hybrid event, enabling delegates to attend either in-person or virtually.
In-person attendance: Delegates based in England are invited to attend in person on both days of the conference (provided COVID-19 government guidelines at the time permit it).
Virtual attendance: Delegates joining the conference from outside of England are eligible to join the event virtually, via a live stream link.
Please note virtual attendance is exclusively open for attendees working outside of England.
We strongly encourage nurses working in England to attend in-person, as we believe there is significant benefit to be gained from more wholesome discussions and networking at in-person meetings. Additionally, we have secured a venue and conference facilities and need to have a sufficient number of delegates to make this financially viable and use our sponsorship funding appropriately.
We therefore ask that you book your ticket according to the eligibility outlined above.
Joining the conference remotely:
For those of you joining from outside of England, the meeting will be live-streamed virtually. Please go ahead and book your free ticket for the conference and we will then email you a link with the joining instructions closer to the time.
Accommodation for in-person attendees:
Please note accommodation will be available at the Marriott Oxford Centre, 15 Paradise Street, OX1 1LD.
There is a limited number of free accommodation available, therefore spaces will be limited only to DBS nurses, speakers and certain allied health professionals and is subject to approval from the DBSNA committee.
If you are not eligible for free accommodation as per the criteria above, you will need to arrange and pay for your own accommodation. For queries regarding your accommodation status, please contact the committee directly.
If you have any queries or questions about the event, please email excellence@parkinsons.org.uk.
We look forward to seeing you at the conference in November!
Best wishes,
The Deep Brain Stimulation Nurse Association Committee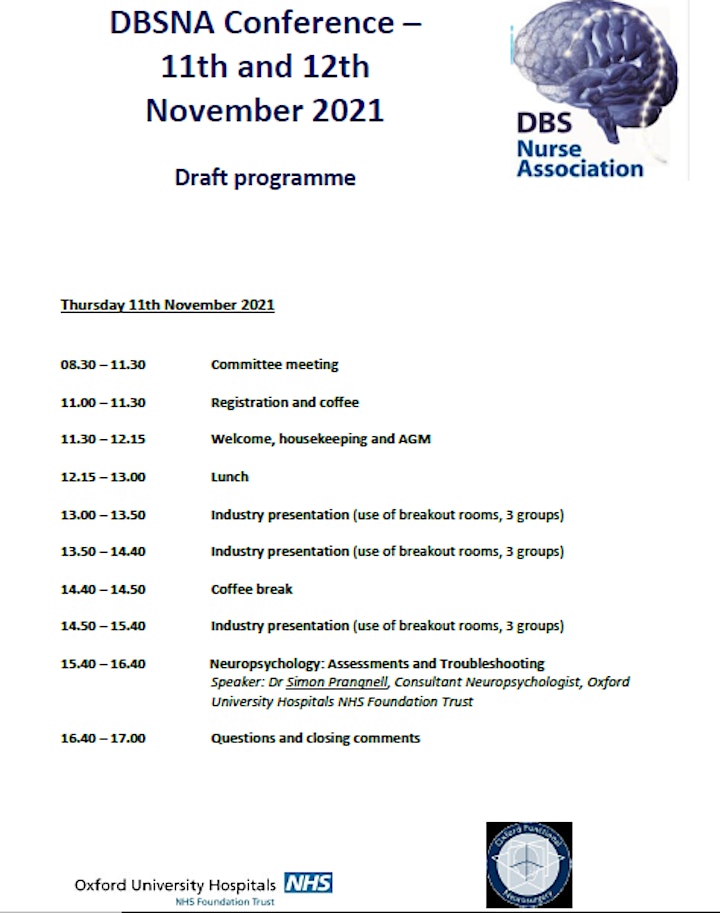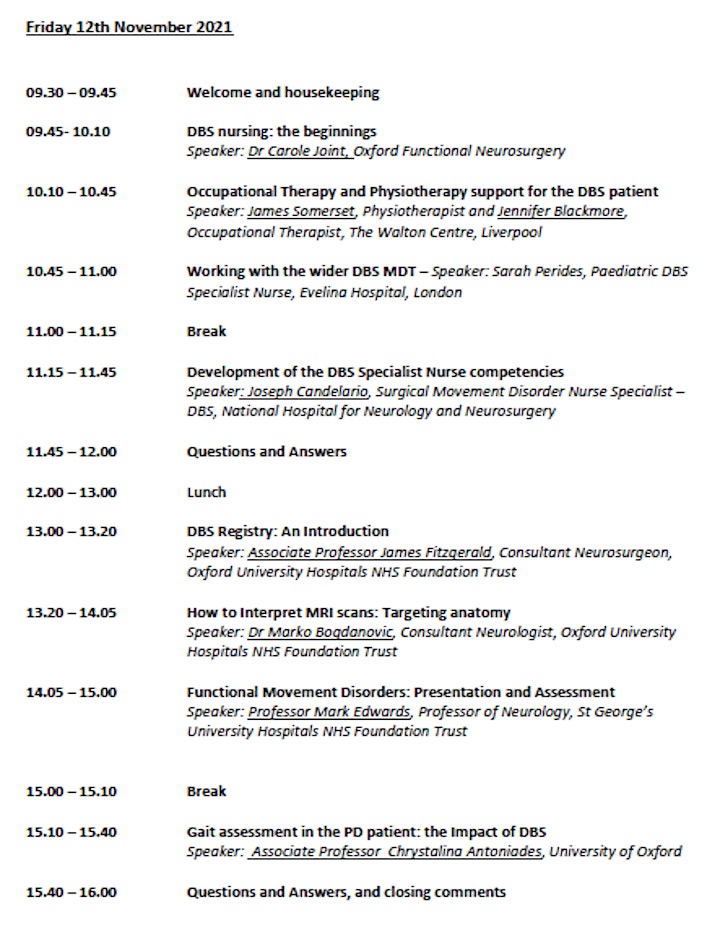 Organiser of DBSNA 8th International Conference - 11 and 12 November 2021