Ddathlu Calan Gaeaf! Halloween Special - Science of Sweets
Gŵyl Wyddoniaeth Abertawe | Swansea Science Festival
About this event
Sioe Wyddoniaeth ryfeddol, arddull Wonka gan Stefan Gates, Gastronot y BBC.
Ymunwch â Stefan am adweithiau cemegol bwytadwy, canonau fortex, ffrwydradau, diodydd sy'n disgleirio a straeon pryfed cudd yn ein malws melys. Mae'r sioe'n llawn cemeg, bioleg a ffiseg ac mae llawer o arddangosiadau y gallwch roi cynnig arnynt gartref...yn ogystal â rhai na ddylech roi cynnig arnynt gartref o gwbl!
Gwybodaeth Bwysig:
• Addas i: Pob oed
• Iaith: Saesneg
• Lleoliad: Oriel y Warws
• Sylwch y bydd angen i chi archebu tocyn ar gyfer plant ac oedolion ar gyfer y digwyddiad hwn
• Mae'r tocyn digwyddiad hwn yn rhoi mynediad i'r Amgueddfa i chi yn awtomatig, heb yr angen i orfod archebu tocyn mynediad safle ychwanegol
Sylwch, mae'r tâl ar gyfer y tocyn hwn yn ddielw, ac fe'i ychwanegwyd i sicrhau eich lle ar gyfer y digwyddiadau capasiti cyfyngedig hyn. Mae Gŵyl Wyddoniaeth Abertawe yn ddigwyddiad dielw, a bydd unrhyw incwm yn cael ei rannu rhwng Prifysgol Abertawe ac Amgueddfa Genedlaethol Cymru i ariannu ei ymchwil a'i raglenni cyhoeddus yn y dyfodol.
____________________________________________________
A spectacular, Wonka-esque edible science show from BBC Gastronaut Stefan Gates.
Join Stefan, for edible chemical reactions, vortex cannons, explosions, glowing drinks and tales of hidden insects in our marshmallows. The show is packed with chemistry, biology and physics and there are loads of demos you can try at home... plus a few you really can't!
Important Information:
• Suitable for: Suitable for all ages
• Language: English
• Location: Warehouse Gallery
• Please note you will need to book a ticket for both children and adults for this event
• This event ticket automatically gives you entry to the Museum, with no need to book an additional site entry ticket
Please note, this ticket charge is non-profit making, and has been added to secure your place for these limited capacity events. Swansea Science Festival is a non-profit making event, and any income will be split between Swansea University and National Museum Wales to fund its research and future public programmes.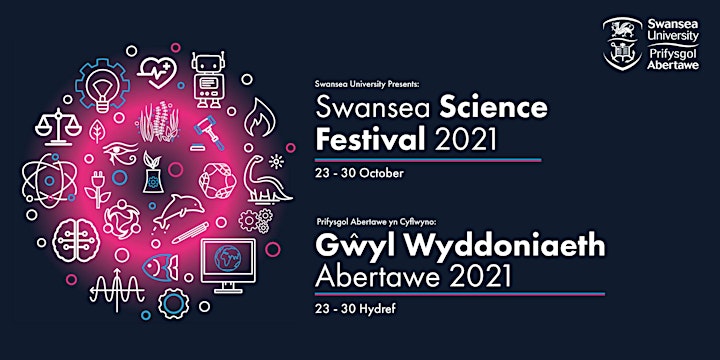 Organiser of Ddathlu Calan Gaeaf! Halloween Special - Science of Sweets