Gŵyl Wyddoniaeth Abertawe | Swansea Science Festival
About this event
Archwiliwch yr wyddoniaeth ryfedd y tu ôl i bethau pob dydd wrth i Stefan Gates, Gastronot y BBC, fynd i'r afael â chwestiynau megis Pam na allwch doddi Flake? Beth yw pwrpas bwganod? A oes modd gwneud plasma chwilboeth mewn microdon?
A hithau'n llawn arddangosiadau twp a syfrdanol, chwalu mythau a hunan-arbrofi, mae'r sioe wyddoniaeth hon yn llawn bwrlwm i'r teulu ac mae'n addo syfrdanu a diddanu pawb! Mae Gastronot y BBC Stefan Gates yn adnabyddus am ei sioeau gwyddoniaeth a bwyd o safon fyd-eang.
Gwybodaeth Bwysig:
• Addas i: Pob oed
• Iaith: Saesneg
• Lleoliad: Oriel y Warws
• Sylwch y bydd angen i chi archebu tocyn ar gyfer plant ac oedolion ar gyfer y digwyddiad hwn
• Mae'r tocyn digwyddiad hwn yn rhoi mynediad i'r Amgueddfa i chi yn awtomatig, heb yr angen i orfod archebu tocyn mynediad safle ychwanegol
Sylwch, mae'r tâl ar gyfer y tocyn hwn yn ddielw, ac fe'i ychwanegwyd i sicrhau eich lle ar gyfer y digwyddiadau capasiti cyfyngedig hyn. Mae Gŵyl Wyddoniaeth Abertawe yn ddigwyddiad dielw, a bydd unrhyw incwm yn cael ei rannu rhwng Prifysgol Abertawe ac Amgueddfa Genedlaethol Cymru i ariannu ei ymchwil a'i raglenni cyhoeddus yn y dyfodol.
____________________________________________________
Explore the strange science lurking in everyday things as BBC Gastronaut Stefan Gates tackles questions such as Why can't you melt a Flake? What are bogies for? And can you make screaming hot plasma in a microwave?
Full of ridiculous and shocking demos, hacks, myth busting and self-experimentation, this is an action-packed family science show that will light the touchpaper of fascination in anyone.
BBC Gastronaut Stefan Gates is renowned for his world-class science and food shows.
Important Information:
• Suitable for: Suitable for all ages
• Language: English
• Location: Warehouse Gallery
• Please note you will need to book a ticket for both children and adults for this event
• This event ticket automatically gives you entry to the Museum, with no need to book an additional site entry ticket
Please note, this ticket charge is non-profit making, and has been added to secure your place for these limited capacity events. Swansea Science Festival is a non-profit making event, and any income will be split between Swansea University and National Museum Wales to fund its research and future public programmes.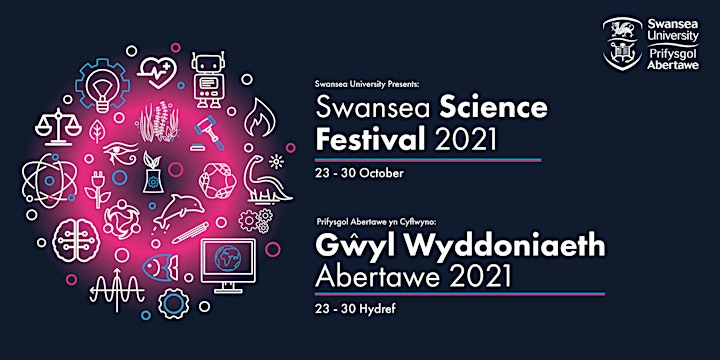 Organiser of Ddathlu Calan Gaeaf! | Halloween Special: Weirdology