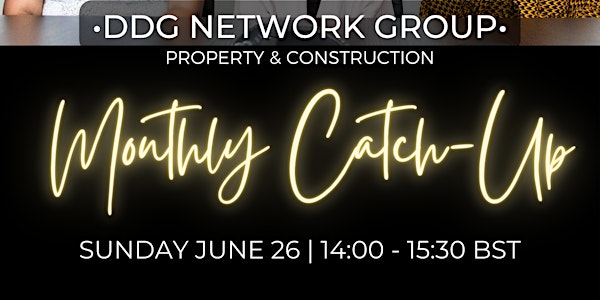 DDG Network Group Monthly Catch-Up June 2022 - Property & Construction
Welcome to DDG Network Group. A focus & networking group for real estate, development and construction professionals from all backgrounds
About this event
ABOUT US:
Do you work or own a business in the Property & Construction Sector, Property Development, Property Investment or simply interested in establishing your Property Portfolio, or know someone who does? Then join our FREE Property Networking & Focus Group 'Diversified Developments Global' (DDG Network Group).
Our monthly Property & Construction Networking Catch-ups take place on Zoom - so you can join from anywhere in the world. They give you a chance to meet and catch-up with your fellow professionals and business owners in your industry and share opportunities, projects and contacts.
ABOUT: DDG Network Group provides support for the above built environment, for business owners and professionals in small, medium or large enterprises, no matter your background. We work to build a bridge which connects real estate professionals from all backgrounds and with all experiences to top tier and high end residential and commercial projects, by giving you a platform and network to connect with like-minded individuals and professionals in your field. Promote and grow your business, your contacts and client lists and brainstorm property solutions with others in your industry, like so many of our members are already doing.
To find out more, check out our website and join as a FREE member: https://ddgnetworkgroup.wixsite.com/home
If you know someone who you think would benefit from joining our Network Group then please share this event with your contacts wherever they are in the world! We look forward to meeting and connecting with you soon.
Kind regards
Slaheoldine (DDG Owner & Founder)
CONNECT.REFER.BUILD