Description
De-Stress Your Life

with Dr Giles P Croft
Experience the revolutionary way to combat stress and its harmful effects on a six week course with a qualified doctor and coach.
---
Is stress getting you down?
Have your coping strategies become less effective?
Are you tired of being so exhausted by it all?
Does it seem impossible to switch off?
Would you like to experience more peace of mind?
How about finding some inner strength and rediscovering your zest for life?
The good news is – you can ✅
There is a solution for you—yes, you!—and over six weeks (with a break for the most chilled out half term you've had in a while), we'll take a relaxed, insightful journey together, de-stressing, week by week, as we cover:

The life-long solution to stress, worry and anxiety

Managing difficult situations with others

How to feel more confident

Becoming less afraid of change

Resolving difficult feelings, such as guilt, regret, anger, frustration and grief

The secret to effortless habit change

Cutting back on endless over-thinking

Removing stress from past events and worry about the future
You'll discover the groundbreaking understanding of psychology that is transforming people's lives, without expensive techniques, time-consuming practices or medication.
Start the new decade with an entirely fresh outlook on life!
---
Course Dates
1. Friday 24th January 10.30am – 12.30pm
2. Friday 31st January 10.30am – 12.30pm
3. Friday 7th February 10.30am – 12.30pm
4. Friday 14th February 10.30am – 12.30pm
<< Break for Half Term >>
5. Friday 24th February 10.30am – 12.30pm
6. Friday 6th March 10.30am – 12.30pm
*** PLACES LIMITED TO 16 PEOPLE ***
Price includes:
All six sessions (2 hours each)

A secret/private Facebook community group (optional) to ask questions, share insights and support one another

A recording of the full course to refer back to at the end (Each session will be recorded so that if you have to miss one, you can catch up.)
---
Feedback from previous workshop attendees and clients:
"This solution is life changing and I am so amazed!!"
- Rachel H.
"Money well spent … evidence based, with a sound scientific basis"
"I'm much more positive… in much better moods: optimistic, empathic, creative. I can concentrate much better and have much more energy."
"Bleedin' awesome!"
- Jeremy C.
"A fantastic experience. I would definitely recommend Giles' coaching, which is completely different to any other perspective tried."
– Gwennan T.
"My whole mindset has transformed… I'm less regretful about the past and feel much less anxious about the future than I used to."
"My relationships are better, because I have changed the way I see others."
"[Giles is] … great to work with: deeply committed, interested, with excellent, non-judgmental listening skills. Very easy to talk to. An excellent coach who has the knowledge and techniques to help people change what they want to change."
"Gets results!"
- Dr B.
"Giles gives people an exciting new perspective on stress and its causes and solutions. He is incredibly caring, warm hearted and fun to work with. He takes what can be a heavy topic and makes it lighthearted and interesting and leaves people with a lot of hope. If you ever experience stress, I can't think of a better way to spend your time than with Giles"

– Katy R.

"I would highly recommend Giles to anyone who is looking for a deeper connection."

– Martin B.
"Giles coaches using his wealth of experience with integrity. He presents different ways of thinking about seemingly impossible problems that can lead to solutions."
"A patient's welfare is priority and their treatment should be evidence based. [Giles has] … carried across these primary honest motivations from his medical training to his coaching role, delivering a package that is insightful, relevant and trustworthy."
"[Giles has] … done incredible work in assimilating knowledge of people and their psychology. It's a completely non-judgmental approach, with such a positive impact!"

– Dr Natasha M.
"Giles has such an engaging story and personality, and I'd highly recommend him for presentations and coaching"
– Emma B.
"Provides clarity and increases your confidence. I am sure it will work for you. A real inspiration – I would recommend Giles' coaching to anyone!"

– Sonia R.
"The results I've achieved have reawakened my optimism and eagerness to take on more. It's totally liberating! I genuinely feel more relaxed and confident about the future."
"Giles's calm and clear guidance take one back to where everything makes sense. Instant relief and de-stressing"
– Mariki T.

---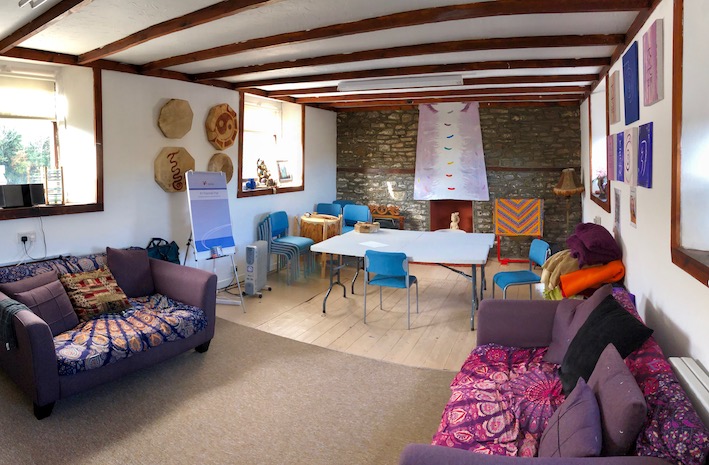 FAQs
What are my transport/parking options for getting to and from the event?
The precise location of the venue is: https://w3w.co/agreeable.drones.initial (Black door, up the steps and round to the left)

X4 bus has a stop just down the road at The Bridge Inn

Abergavenny Rail Station is a 30 minute walk across town

There is limited parking at the venue, and more in the surrounding streets
What can I bring into the event?
You may bring whatever you wish, for your comfort. You will be seated for each session.

Basic refreshments will be provided, for a break (teabags, hot water, milk, water)
How can I contact the organiser with any questions?
You can contact Giles either by email (dr@gilespcroft.com) or by text/phone (0788 925 4987) for any questions you may have, prior to booking.