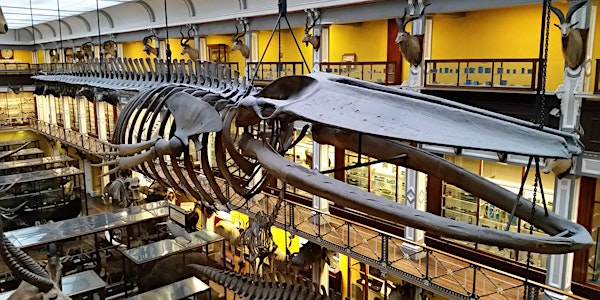 Dead Interesting: Secrets of Collections Success - 2019 Conference & AGM
Location
National Museum of Ireland
Collins Barracks
Benburb St, Arran Quay
Dublin
Ireland
Sales Have Ended
Ticket sales have ended
Tickets for this event are no longer available online. It may still be possible to book. Please contact treasurer@natsca.org
NatSCA's annual conference at National Museum of Ireland - Dead Interesting: Secrets of Collections Success
About this event
The Annual Conference & AGM of the Natural Sciences Collections Association will be held between the 1st and 3rd May 2019 at the National Museum of Ireland, Dublin – Collins Barracks site.
The #NatSCA2019 conference aims to unlock the secrets of collections success by sharing how our members and colleagues in the wider sector have used collections to benefit their organisations, communities and the wider world.
We will host three themed sessions, with a focus on:
Collections: Reveal your collections care, research and access secrets.
Engagement: What are your engagement success stories and how did you make them happen?
Museums and Tech: How has technology helped you unlock, understand and unleash your collections?
This conference intends to offer an opportunity to share the best ideas and approaches to working with collections. We will prioritise papers that focus on sharing ideas, tools and guidance rather than simply reporting results
SCHEDULE
A full conference programme is now available here.
TOURS
If you would like to attend tours please BOOK a time, location and date. We will be organising a free coach for the Wednesday tours, with capacity for 45 people. The coach will pick-up from the airport at several times between 10:30am and 2:15pm (full details of location and time once bookings are confirmed).
Weds 1 May, 1pm - NMI Collections Resource Centre
Weds 1 May, 3pm - National Botanic Gardens
Fri 3 May, 2-5pm - Dead Zoo (NMINH) and TCD Zoology Museum
CONFERENCE MEAL
This year's conference meal is at Market Bar - lots of yummy tapas - it is a set menu available to view on their website.
Spaces are limited, so please book early! The meal is not compulsory, but most people do come - very informal and lots of fun. It's much easier for everyone if you book in advance.
TICKETS
- Early bird booking (by March 22nd 2019):
Two day cost: NatSCA members £90, non-member £125
One day cost: NatSCA members £50, non-member £70
- From March 22nd 2019:
Two day cost: NatSCA members £120, non-member £140
One day cost: NatSCA members £65, non-member £85
Speakers: The day you speak is free of charge. Additional days charged at above one day costs. A promotional code will release these free tickets.
Conference meal at Market Bar: £22 (includes service charge)
Members - please contact membership@natsca.org for your promotional code to release discounted tickets. Please note, institutional members may claim up to two discounted places. If you'd like to become a member please use the same email address.
The most efficient way to book is using this Eventbrite system. However, if your organisation is unable to pay in this manner please complete this booking form and email it to treasurer@natsca.org.
Please note, NatSCA is not VAT registered and no VAT is being charged.
REFUNDS
Refunds will be offered until 5pm on April 24th. Please email treasurer@natsca.org