About this Event
Michelle Goodwin from Deaf LGBTIQA+ will be hosting an Adoption & Fostering Webinar with Tor Docherty, the CEO from New Family Social. Tor will give information on the process for any Deaf LGBTIQA+ people who are thinking of fostering and adoption. Then a deaf person (via a relay interpreter) will tell the story of her own adoption process, how she found the process and dealing with communication barriers.
You will be given opportunity to ask typed questions at the end of the session to be answered by Tor Docherty.
This webinar will have captioning and BSL interpreters.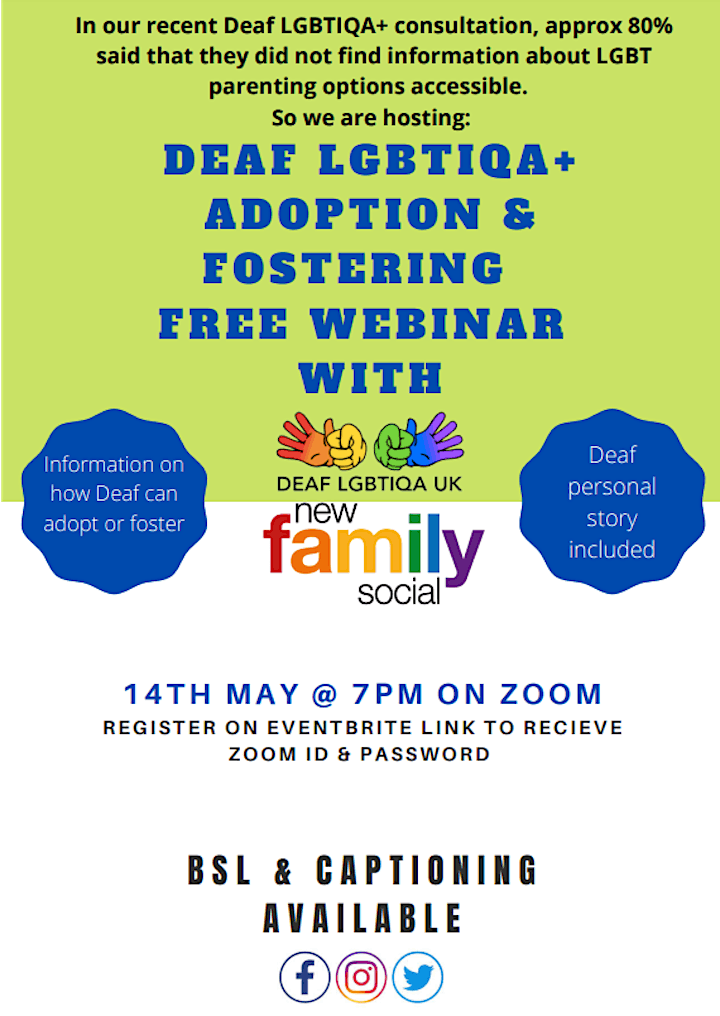 Deaf LGBTIQA+ has a website where deaf people can visit to find information, guidance and educate themselves on the deaf LGBTIQA+ community in an accessible way. We cover advice, history and articles and more. We are continually adding to the website so the content will always be evolving. If you have anything you'd like to contribute or see, please feel free to contact us at Hello@deaflgbtiqa.org.uk.
In 2019 we got funding from LGBT Consortium to do an Deaf LGBTIQA+ Consultation 2019/20 into the needs and wants of deaf people who identify themselves on the LGBTIQA+ spectrum. The full report can be found on our website.
On the Adoption and Surrogacy section it was discovered that there was:
· A very strong indication was given for the need of BSL access
· This follows next by issues around navigation to the right information resources
Recommendations
a. To reach out to key organisations with the responsibility around LGBT+ and adoption/surrogacy for partnership work.
b. To further determine, with Deaf LGBTIQA+ people, what is meant by BSL access to resources, e.g. video stories, in-vision signers.
Therefore we are organising this event to give more access to information in this area.