About this Event
DEAN OWENS AND THE SOUTHERNERS
Award winning Scottish singer songwriter Dean Owens is widely hailed as one of UK's finest troubadours, with fans including Trainspotting author Irvine Welsh and BBC legend "Whispering" Bob Harris.
His new power trio, The Southerners, brings together the formidable talents of award winning multi instrumentalist Tom Collison on keys and bass guitar (sometimes both at the same time) and guitar maestro Jim Maving (Case Hardin, Don Gallardo) on electric, delta slide and mandolin. Their recent debut on the English tour circuit in June 2019 met with exuberant standing ovations and several sellouts.
Armed with a searingly soulful voice, skilfully crafted songs and earworm inducing melodies, Dean's music conjures the wild romanticism of the open road, distilling the Scottish and Americana into a unique blend of celtic spirit, country soul. The unfettered enthusiasm of a rock n roller coupled with the sympathetic delivery of folk's best storytellers.
A Dean Owens gig isn't just about the songs though. Dean is also a witty raconteur ("a blether" in the Scottish vernacular), with anecdotes about his travels and the songs – from a 7 album solo career, and his days with Scotland's original Americana/alt country/cowpunk band, the Felsons - peppered throughout his set. His performance takes his audience from tears to laughter to rocking out, in the course of just a few songs.
A new album – The Man From Leith (The Best of Dean Owens) – will be released on Eel Pie Records in March 2020, so audiences can expect a dive through his formidable back catalogue as well as some new songs.
----------
Dean Owens - UK Song of the Year Award 2019 - (UK Americana Music Association)
"One of Scotland's best troubadours… fabulous." (BOB HARRIS BBC)
"Magical… if you have a chance to see them do yourself a favour and go along… one of the happiest and most life affirming shows of the year." (AMERICANA UK)
"One of the standout Americana artists this side of the pond." (LONESOME HIGHWAY)
"A little bit country, a little bit rock and soul." (MOJO 4 STARS)
"Many of Scotland's finest artists have stamped their mark by blending country roots with their own traditions. Dean Owens is right up there with his own distillation of 'Celtic spirit, Country soul.' Jim Maving and Tom Collison showed their class in their ability to intensify that mix, the strongest intoxicant on offer." (YOUR LIFE IN A SONG)
"Scottish, Americana in a unique blend." (NO DEPRESSION)
"His songwriting craft can stand proudly with the best … albums like this don't come around too often." (FATEA)
Southside Advertiser 4 STARS
----------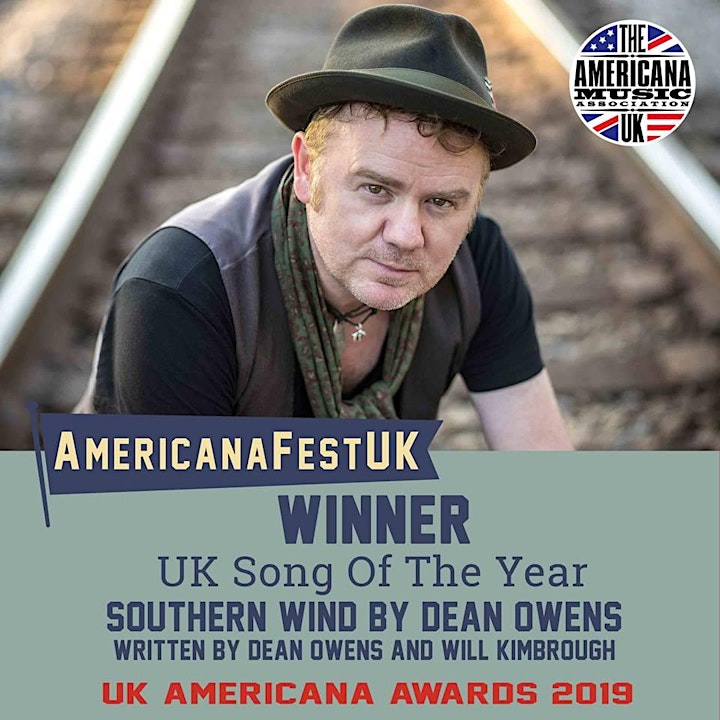 LINKS
Dean Owens Website https://www.deanowens.com
Dean Owens YouTube https://youtube.com/deanowens
Dean Owens on Facebook https://www.facebook.com/deanowensmusic
String Jam Club Website http://www.stringjamclub.co.uk
String Jam Club on Facebook https://www.facebook.com/stringjamclub
----------
Tickets £14 (plus booking fee).
Enquiries 07930 872033 or email: thestringjamclub@gmail.com
DOORS OPEN 7.30 for 8.00 start. ENDS 11.00 PM (approx)
----------
STRING JAM CLUB
WE ARE NOW CELEBRATING 23 YEARS OF LIVE MUSIC!
"The Borders haven of acoustic music" (The List)
Voted the 2nd best gig in the UK by the Guardian.
Club of the Year Nominee - Scots Trad Music Awards 2007.
"Magic happens in small spaces."
We welcome everyone who loves music.
----------
Join our mailing list for regular updates:
thestringjamclub@gmail.com
----------
Thanks to our sponsors: Vixen Records, Sound Station Studio, Borders Chartered Certified Accountants, Hainingside Fine Art Photo Gallery.