Deano As Phil Collins Celebrating The Music Of Phil Collins & Genesis
UK #1 world renowned Phil Collins sound-a-like tribute artist and star of touring theatre production 'In The Air Tonight'
About this event
Don't miss the world's number one tribute artist to amazing Phil Collins and Genesis, playing here at Mansfield Town Football Club on the 30 May 2019.
The show includes all the best hits of Phil Collins and Genesis.
Deano performs with a visible likeness to Phil Collins and a distinguished vocal similarity. He has an impressive vocal range, intonation and a gifted execution.
Deano sings the classic Phil Collins songs from the early years, including In The Air Tonight, Easy Lover, A Groovy Kind Of Love, Another Day In Paradise, One More Night, You Can't Hurry Love and many more.
Also playing hits from Genesis showstoppers such as That's All, Invisible Touch and I Can't Dance.
Each song is carefully crafted to ensure that the vocals are sung accurately, and the stage performance is authentic.
If you love Phil Collins, this is one not to be missed.
Tickets available now, so make sure grab them quick.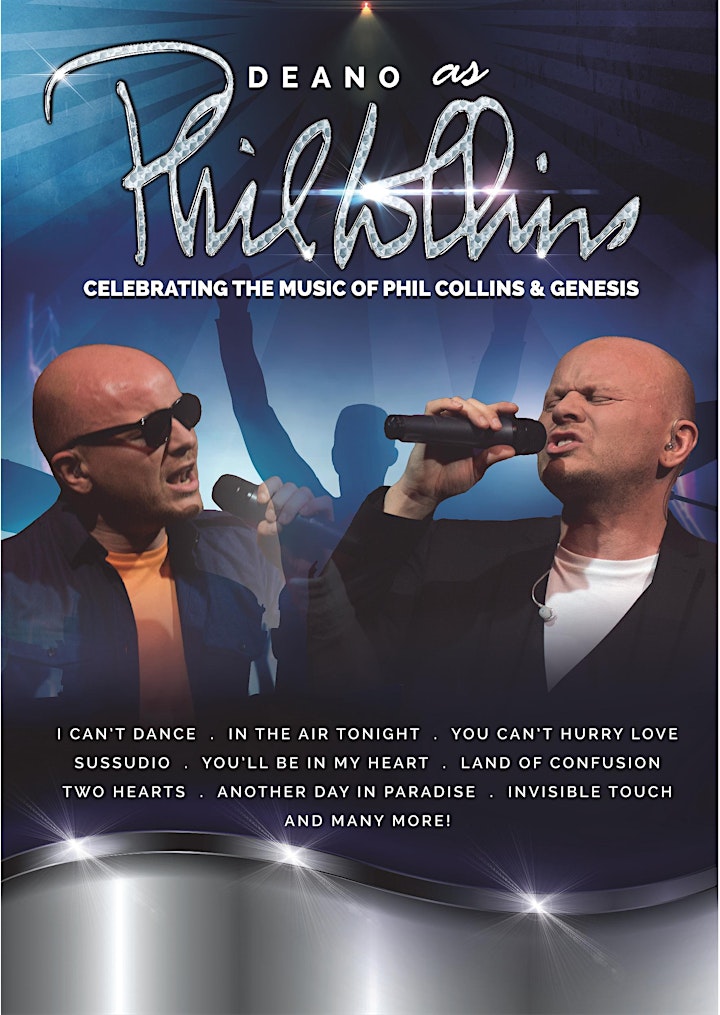 Organizer of Deano As Phil Collins Celebrating The Music Of Phil Collins & Genesis
Mansfield Town Football Club is a EFL Sky Bet League 2 Club.
Off the field Mansfield Town Football Club plays host to some of the finest Tribute nights, Comedy nights, Sportsman diners, Darts nights plus many more areas of great entertainment. 
All the events are run by Mansfield Town Football Club
and will be held in one of our amazing suites.
We aim to be your one stop hub for entertainment in the Mansfield area,
so please come and support us.
Click below on each event to find out more details of each night.