'Dear Gary, Why You're Wrong About Israel'

Wednesday, 20 March 2013 from 18:45 to 20:00 (GMT)
Event Details
By kind invitation of Baroness Deech, the Institute for Middle Eastern Democracy is delighted to host Dr Denis MacEoin, author of 'Dear Gary, Why You're Wrong About Israel', published by the Library of Middle Eastern Democracy

Join us for the book launch & a talk and Q&A with Dr MacEoin.

Copies of the book will be available - a donation of £10 would be most appreciated.
 
LOCATION: Committee Room 4A, House of Lords, London

WHEN: 6.45pm, 20th March 2013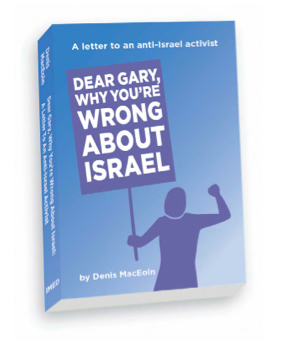 "Israel is an apartheid state"
South Africa had apartheid laws. Israel doesn't. Not a single place in Israel is barred to Arabs. No buses, no restaurants, no universities, no trains. When you're there, you won't find even a dim memory of apartheid in one of the world's most multicultural countries.
"Israel goes to war with Gaza in order to kill innocent civilians"
The rulers of Gaza put their command centres and rocket launching pads inside or near hospitals and schools. They don't seem to mind if that means Israeli defensive actions kill their children, because that has PR value. Hamas fires its missiles directly into civilian towns. And Israel sends tons of aid into Gaza every day, while the Gaza elite smuggle in luxury cars, drive to expensive restaurants, and build stockpiles of weapons to kill Jews.
"During wars, Israelis kill disproportionate numbers of Palestinian civilians"
Historical figures for casualties throughout 20th Century conflicts reveal that Israel is in fact one of the least violent nations on earth. Really. Besides, proportion and disproportion don't refer to a simple balance of figures; more Germans were killed by the Allies than vice versa during World War Two. But the destruction of the Nazi regime saved untold numbers of innocent people round the world. If Hamas could be finished, it wouldn't just save Israeli lives, but would free Palestinians from lives of misery.
"Israel is a Nazi state"
Go to Israel and look for the Nazis. You won't find them. But did you know that the Palestinian leader in the 1930s and later did spend the war with the Nazis in Berlin, and planned to build a concentration camp in Nablus, where he aimed to carry out a second Holocaust?
When & Where

House of Lords
Committee Room 4A
Parliament Square
SW1A 0PW London
United Kingdom


Wednesday, 20 March 2013 from 18:45 to 20:00 (GMT)
Add to my calendar
Organiser
The Institute for Middle Eastern Democracy, based in London, works with policy makers, analysts, the media and the wider public, to educate about the circumstances required to achieve and increase liberal democracy in the Middle East. We place particular emphasis on the pursuit of genuine democracy, which must include free and regular elections, provisions for the protection of minorities, and safeguards for an independent judiciary and free media.