Description
Death and the City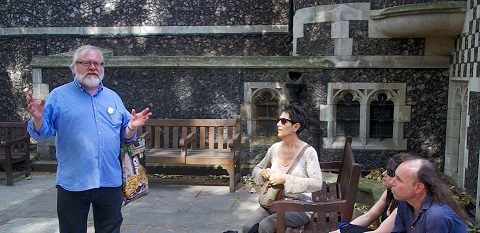 Photo © 2015 Alan Tucker – Churchyard, St Bartholomew the Great
The City of London is an ancient place, and while it is a city of life, it is also a city of death.
For many centuries, public executions were held on London's open spaces, the condemned held in prisons run as private businesses, with all the abuses that entailed.
While many a crime has been punished at Tyburn and West Smithfield, you could find yourself on a gallows or chained to a stake purely because of being on the wrong side of the political divide between Catholic and Protestant.
There are many grim stories lurking beneath the City's surface, and this tour takes you to sites on its western side connected with death, execution, and a deadly hoax.
Guide tel: 07982 132231.

Meet outside Exit 1 (NOT the Cathedral exit) St Paul's Underground Station.
The walk will take approximately 2 hours, and finishes near Barbican Underground Station. For information on travel, please use Transport for London's Journey Planner.