Description
Heffers is pleased to welcome Abir Mukherjee, winner of the 2017 CWA Historical Dagger Award and the 2018 Wilbur Smith Award, to talk about his latest Sam Wyndham novel, Death in the East - another rip-roaring adventure set in 1920s India.
1905, London. As a young constable, Sam Wyndham is on his usual East London beat when he comes across an old flame, Bessie Drummond, attacked in the streets. The next day, when Bessie is found brutally beaten in her own room, locked from the inside, Wyndham promises to get to the bottom of her murder. But the case will cost the young constable more than he ever imagined.
1922, India. Leaving Calcutta, Captain Sam Wyndham heads for the hills of Assam, to the ashram of a sainted monk where he hopes to conquer his opium addiction. But when he arrives, he sees a ghost from his life in London - a man thought to be long dead, a man Wyndham hoped he would never see again.
Wyndham knows he must call his friend and colleague Sergeant Banerjee for help. He is certain this figure from his past isn't here by coincidence. He is here for revenge . . .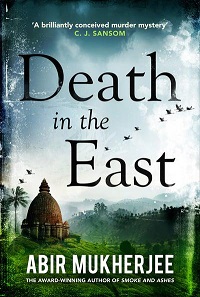 Abir Mukherjee's debut novel, A Rising Man, won the CWA Endeavour Dagger for best historical crime novel of 2017 and was shortlisted for the MWA Edgar for best novel. His second novel, A Necessary Evil, won the Wilbur Smith Award for Adventure Writing and was a Zoe Ball Book Club pick. His third novel, Smoke and Ashes, was chosen by the Sunday Times as one of the 100 Best Crime & Thriller Novels since 1945. Abir grew up in Scotland and now lives in London with his wife and two sons.
The event will be chaired by Alison Bruce, author of the Cambridge-based Goodhew series of crime novels, and the standalone I Did It For Us.
Tickets for the event are priced at £6 in advance or £7 on the door, and can be purchased through this page, by calling 01223 463200 or in person at Heffers bookshop. Please note that tickets are transferable but non-refundable.
If you are unable to attend but would like to request a signed copy, please send an email via the 'contact' button on this page.
Like this? See a full list of our forthcoming events by clicking here.