DEBCADEMY UK

Multiple Dates
Event Details

WHAT IS DEBCADEMY?
5 hours of expertly delivered personal development in a unique format.

A powerful experience that will leave you fired up and achieving results like never before

A monthly mentoring programme with lots of freebies and giveaways that enriches your personal growth positively impacting your business, career, relationships, your whole life.

Head up time for you to focus on yourself and lets face it we often put ourselves at the bottom of our to do list even though taking time to develop ourselves is as vital as oxygen to truly thrive in life.
OUR COMMITMENT TO YOU
We respect your intelligence so we don't use old marketing techniques that play on your insecurities to lure you into our programme.

No upsells or blarney to squeeze extra pounds out of your pocket once you are a member.

No sharing of your date to build other peoples lists

No hidden costs like joining fees or hefty deposits to secure your place

No contracts to tie you in as we know our members love the results the programme helps them to achieve in all areas of their life.

Each month there is access to free wifi, unlimited drinks including speciality teas and biscuits, this is usually the deal clincher

We promise clear communication and lots of laughter, a sense of humour is essential.

We provide an open, honest environment built on trust and the sharing of knowledge, every member has a value and brings a great deal to the DEB

CADEMY 

table.

We have one simple clear monthly investment for all our members, no special levels with differing price ranges to make you feel the more you pay the more you get or expensive trips to Fiji and best of all no need to remortgage your house to experience some life-changing moments. You can easily do this for the investment of £127 + VAT per month.

We guarantee privacy and dignity are respected at all times. 
YOUR NEXT STEPS
All you have to do now is click on the date you wish to join and pay your monthly fee

Faith my glamorous assistant (top left in the logo picture) will then be in touch with you to take a few details so we can ensure the programme is tailored to suit your needs.

On the 1st of each month you will be sent an email with a link to pay your monthly investment of £127 + VAT
You are going to love DEBCADEMY and I know you are going to benefit immensely from being a member. I can't wait to meet you and welcome you. A few of our members travel from different areas of the UK so you won't be alone if you are coming from outside the West Midlands. We are a friendly bunch.
Why Wait a Lifetime?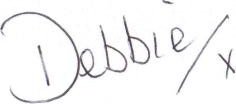 That's me top centre in the logo pic 'The Hux' as I am know across the UK 
Where

Holiday Inn express
River Drive
B79 7ND Tamworth
United Kingdom


Multiple Dates
Add to my calendar
Organizer
Debbie Huxton
Debbie Huxton is an Award winning Coach, trainer, Author and speaker  and influential networker who will show you how to unlock EXTRAORDINARY life success, wealth & well being. If you're ready to up your game and have a rock solid buisness, strong relationships and a life you love then Debbie is the person to help you make this happen.