Description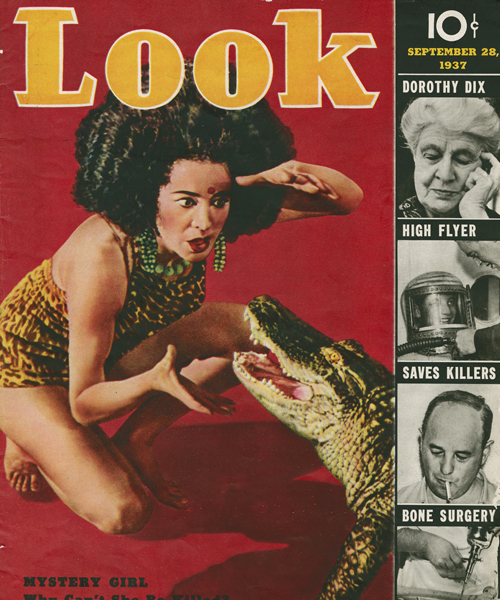 Image: Mystery girl: why can't she be killed?" Look Magazine, September 28, 1937, Des Moines, Iowa, United States
Interrogating and Exhibiting Yoga's Visual Cultures
In this talk, Debra will present methods for interpreting historical yoga-related images and objects, as well as some of the challenges of creating narratives centered upon artifacts and artworks. A discussion follows.
Participants are encouraged to bring two images, printed full size on A4 paper, that together shed light on a history or practice of yoga.
This event is free, but booking is required.
Debra is also speaking on the 1nd May at SOAS on Yoginis, Power and Visual Culture. Book here.
Speaker Biography
Dr. Debra Diamond is curator of South and Southeast Asian Art at the Freer and Sackler Galleries, the National Museums of Asian Art, Smithsonian Institution. Her most recent exhibitions are Body Image: Art from the Indian Subcontinent (Freer, 2017), Encountering the Buddha: Art and Practice Across Asia (Sackler, 2017), and Yoga: The Art of Transformation (2013-14), a cross-disciplinary exploration of the histories of yoga through its visual manifestation
Organiser of Debra Diamond on Interrogating and Exhibiting Yoga's Visual Cultures
SOAS is leading the way in the new field of yoga studies, which is growing rapidly around the globe. We host the Hatha Yoga Project, a research initiative funded by the European Research Council, which will chart the history of physical yoga practices, and we are one of only four universities in the world to offer an MA in Yoga and Meditation. The Centre of Yoga Studies is a hub for scholars, students and all those interested in yoga and hosts lecture series, seminars and workshops in order to share our work, learn from that of others and develop new collaborations.
Sign up to our Facebook page to stay up to date with news and events.  We also have a YouTube channel with event recordings.