Serving customers, adapting our service.
About this event
Over the past year, our team has had over 44,000 conversations with clients, with an average handling time of an hour and a half.
As we have adapted to helping the public during times of crisis and coronavirus, many of these conversations have not taken place in the traditional, face-to-face way.
In the face of these new challenges, our ambition remains to achieve a Debt Free London. Our growing partnership continues to work in every community across the capital to help people find ways of getting themselves out of the trap of debt.
Hopefully, we can now begin to look beyond the crisis and the lockdowns of the past year. As we turn now to the road ahead, we can take with us some of the lessons from the pandemic.
Going forwards, we will need to expand our horizons. If we are to better help those with debt problems and money worries, we will need to forge new alliances, seek different avenues, and work with more partners.
Join us on Thursday 21st October at 9am as we launch our annual impact report, release the findings of our recent advisor wellbeing research, and share the findings alongside our participatory action research report which aimed to:
Address issues of accessibility and ensure debt advice services reach and support the people who need them;
Identify the solutions to these issues for which people with lived experience of debt have a strong preference;
Co-design a prototype of accessible and empowering debt advice support for Londoners by Londoners.
Finally, hear from our panel of experts about the future of debt advice in a post-coronavirus world.
Our Partners:
Debt Free London is a partnership of organisations working together to provide free, independent advice to over-indebted Londoners. We're delighted our partnership is made up of third sector organisations, housing associations and forward thinking enforcement agencies: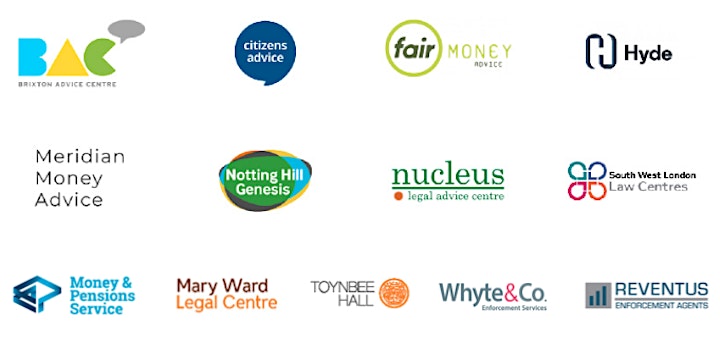 Organiser of Debt Free London | A year of responding to change
Debt Free London is London's debt advice service helping over 24,000 Londoners with their debt and money problems each year since we formed in 2006.
Our trained and accredited advisors are based across our unique partnership of charities and can help with all types of money worries from rent and council tax arrears to credit card and catalogue debt. We can work with clients to prioritise their bills & debts, helping them to write letters and advocating on their behalf.
The partnership is funded by the Money and Pensions Service and managed by Toynbee Hall.
If you live, work or study in London, and have money worries, debt or need advice on unmanageable bills or threats of court action over debt, you can call us on freephone 0800 808 5700 and we can help you weekdays 10am - 5pm.