DC Festival is a global summit that champions the strategies capable of fast tracking decarbonisation in the toughest-to-abate sectors.
About this event
About this event
The Decarb Connect Global Festival brings together global leaders tasked with decarbonisation in energy-intensive industries including metals, chemicals, power, glass, cement, oil & gas, paper and more for three days of open and engaging discussions, facilitated introductions & site visits.
Join us in person in London for two days of discussions and consider signing up for the additional option of site visits* to the South Wales Industrial Cluster on January 27.
For those looking to attend as virtual guests, there's a full day of digital content on January 27th plus key sessions from the event will be live streamed so you can ask questions and get involved. Ideal for those attendees logging in from around the world.
Key highlights:
• Take your seat alongside 60+ senior industry speakers and 150+ in-person participants and 300+ virtual. Enough to make valuable new connections, not so many that induces post-Covid social anxiety
• Take an active role in driving discussions relevant to you: With 11 interactive panel discussions and 20 private discussion roundtables, discussions are spontaneous and inclusive of audience, not preset and formulaic
• Benchmark strategies with industry at the centre of the decarbonisation challenge: the conference is comprised of those leaders tasked with decarbonisation in the heavy manufacturing and energy intensive industries
• Enjoy additional networking opportunities such as the evening networking reception and use the virtual event platform to arrange meetings with new contacts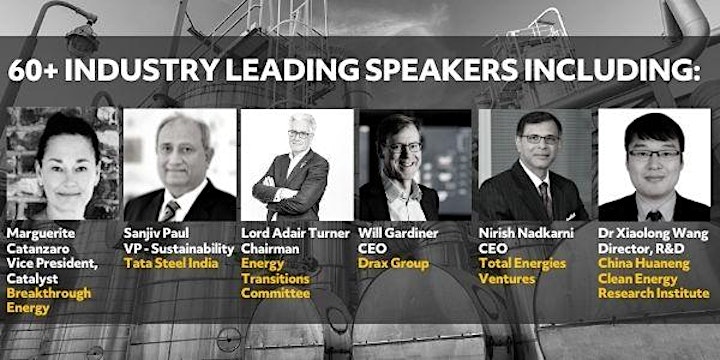 Privacy & Ts and Cs
We respect your privacy, by clicking 'Place Order' you agree to having your details passed onto our sponsors who may promote similar products and services related to your area of interest subject to their privacy policy. You have the right to object. In addition, you will receive our e-newsletter, including information on related online learning opportunities. For further information on how we process and monitor your personal data, and information about your privacy and opt-out right, click here.
For information on our covid policy contact registration@decarbconnect.com and you can read our refund policy and full Terms & Conditions here.
Date and time
Location
Refund policy