The Dechomai Team is proud to introduce our Business Masterclass Series! A four-part series covering the key elements required in Business.
About this event
With the current climate, many people are deciding to convert their passion into an oppertunity. Now is the time for serious growth and development and we are here to help! Through this masterclass series we want to ensuring that those responsible for steering the business in the right direction are fully equipped to deal with the future, which is now more important than ever before.
Each workshop will consist of a 1hr online session to help equip you with the necassary knowledge to establish your entrepreneurial journey and develop your business platform.
The Series will consist of 4 Masterclasses:
Business Model Canvas - Hosted By Bayile Adeoti
Your Organisational structure - Hosted by Kojo Amoyaw-Osei
Organising an event - Hosted by Rachel Fyfe
Marketing tips for your Business - Hosted by Noosa Khogali
Further details for the workshops can be seen below:
Business Model Canvas - Tuesday 22nd June 2021, 6:00pm - 7:00 pm
Attendees will leave this workshop with the knowledge and confidence of how to turn their ideas into a plan of action. Bayile will detail and simplify a business plan structure, give you the tools you need to visualise all the building blocks of your organisation and walk you through applicable for new business models or existing business'
Your Organisational structure -Wednesday 23rd June 2021, 6:00 pm - 7:00 pm
Kojo's masterclass is all about understanding your organisation and establishing your values, vision and mission statements. He will walk you through each of these elements and ensure you understanding what they mean, help you to connect the dots of the different parts of your company and support you in creating your own statements.
Organising an Event - Tuesday 29th June 2021, 6:00pm - 7:00 pm
In this workshop, Rachel will introduce you to the fundamentals of organisiong your own event. This will including; How to creat the dream, a walk through the event day and How to evaluate yourself, your team and your event .
Marketing tips for your Business - Wedesday 30th June 2021, 6:00 pm - 7:00 pm
In this workshop, Noosa will provide participants with an overall understanding of the role and responsibilities effective marketing play when establishing your company. Including How to establish your brands identity, The importance of creating consistent content and key marketing trends to watch.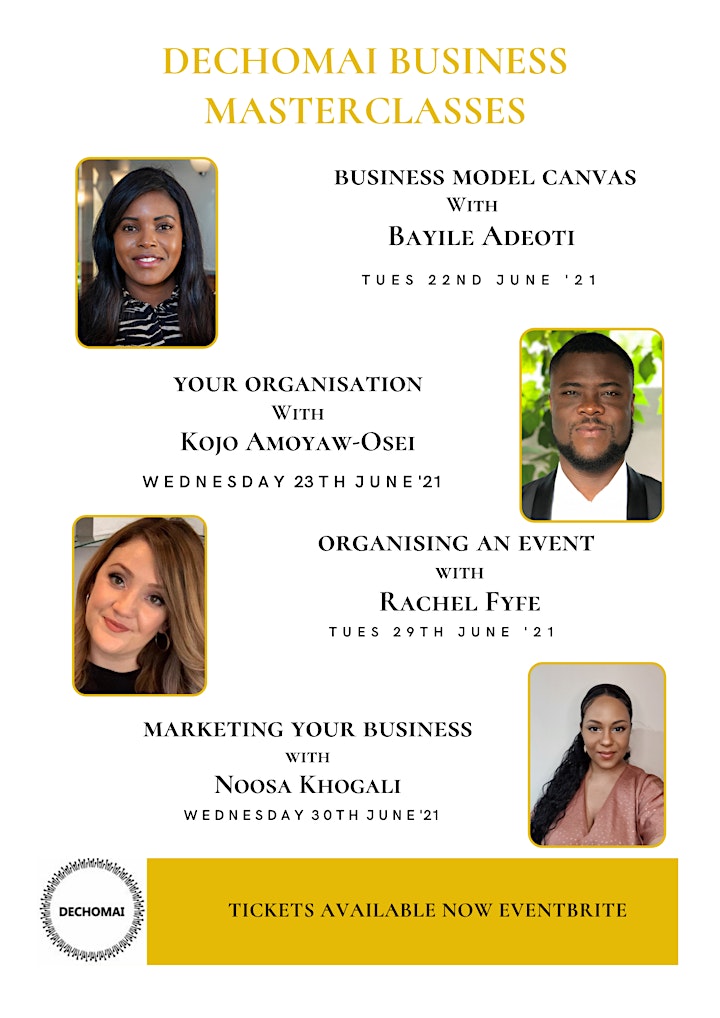 Organiser of Dechomai Business Masterclasses