Description
The Schedule
Saturday, May 10
8:30am-9:30am
Registration & Breakfast
9:30am-10:00am
Welcome, Rules and Tips
Decoded Fashion
10:00am-11:00am
API Demos
Facebook
Skimlinks
SendGrid
Leap Motion
11:00am-11:30pm
Condé Nast International Design Talk
Shazad Awan, Technology Director at Condé Nast International
Franck Zayan, President of Condé Nast E-Commerce
11:300am-12:30pm
Hackathon Brief Unveiled - Panel Discussion
Gemma Ebelis, Head of Press, British Fashion Council
Jen Rubio, Global Head of Innovation, AllSaints
Alexander Giantsis, Head of Sales, Mary Katratzou
Moderator: Liz Bacelar, Founder Decoded Fashion
12:30pm
Lunch
1:30pm
Hacking Begins
4:00pm
Mentoring Session
7:30pm
Dinner
8:30pm
Pitch Practice
Sunday, May 11
8:30am
Breakfast
12:00pm
Deadline to Submit Challenge Post
Lunch Kindly Offered by Condé Nast International
1:30pm
DEMO DAY: Pitches and Judging
5:00pm
Winners Announced
More Tickets Released!
As you all know the Fashion Hackathon sold out pretty fast! After speaking with our generous partners at Innovation Loft, they opened up more rooms allowing us to bring this event to a greater number of talented and ambitious entrepreneurs. Reserve your spot now before we sell out again!
The Hackathon
The Decoded Fashion Hackathon is the world's premiere hackathon aimed at retail, Ecommerce, Mcommerce and fashion. On May 10th and 11th, 2014 top-tier developers, designers and marketers will gather to revolutionise this hitherto digitally dormant industry. In addition, the event will host speakers and mentors from Wired, AllSaints, Vogue, British Fashion Council, Facebook and more. A not-to-be missed opportunity!
The Challenge
The exact brief for the hackathon will be announced live at the event on the moring of May 10th. We can tell you now that it will be focused on retail, Ecommerce, Mcommerce and anything to do with connecting online and offline. The winners of the hackathon will be the team that creates a solution most disruptive in these spaces.
The Prizes
Our mission at Decoded Fashion is to make tech dreams a reality. That is why we have put together a series of prizes that will support the winning teams in their quest for success. This means connecting you with the right mentors and brands and bringing you to where the real starttup action is. Even if that means we need to fly you out to San Francisco! Below you will find a brief overview of the winning packages:
A trip to San Francisco to meet with tech and retail industry players.[1st Place Prize]
An exclusive breakfast with the CEO of AllSaints for [Top 3 Teams]
An offer to work directly with AllSaints to implement their ideas on the AllSaints website and on a network of 100+ AllSaints global stores. [Top 3 Teams]
SendGrid API Pick - each member of the team will receive a wicked set of wireless Bluetooth speakers

10 Leap Motion Controllers- senses how you naturally move your hands and lets you use your computer in a whole new way

The Trampery are offering the winning team a free desk space for 1 month to work out of their London Fields site

Forward Partners are offering the winning team a free business model canvas review workshop. Involving a 3 hour in depth review of their business model with Forward Partners Head of Product, Marketing Strategist and Investment Analyst

Fashion Monitor- A years subscription to Fashion Monitor, a top global source for the global fashion industry
The Mentors
Our utmost priority is to get you acceess to mentors you won't find anywhere else. As curating this process is quite the endeveaour we will be announcing new coaches and speakers up until the launch of the Hackathon. For now we can confirm: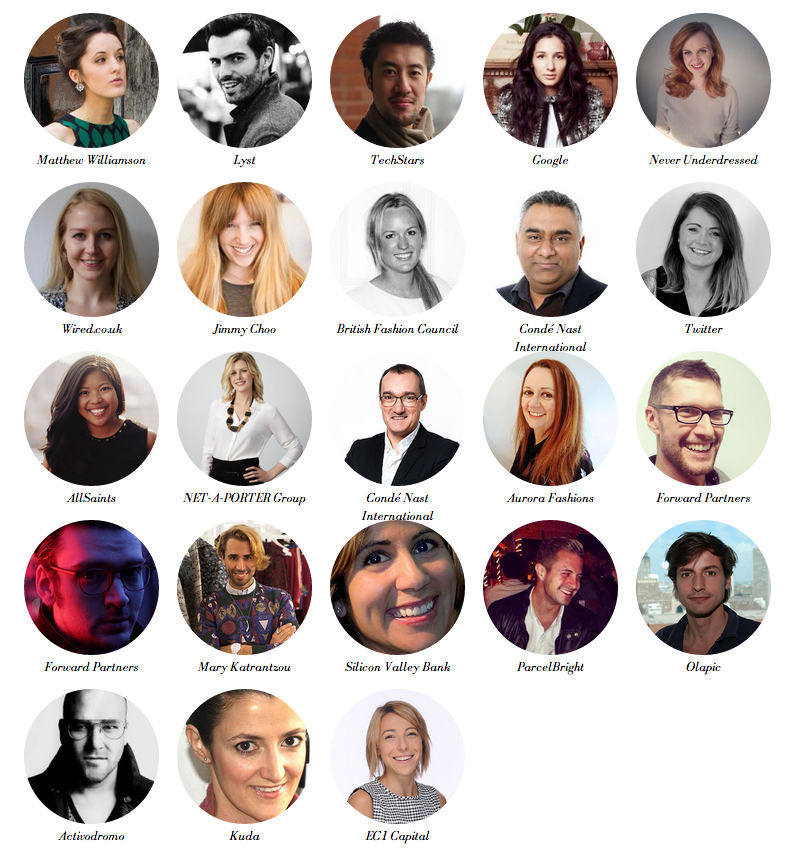 Our Partners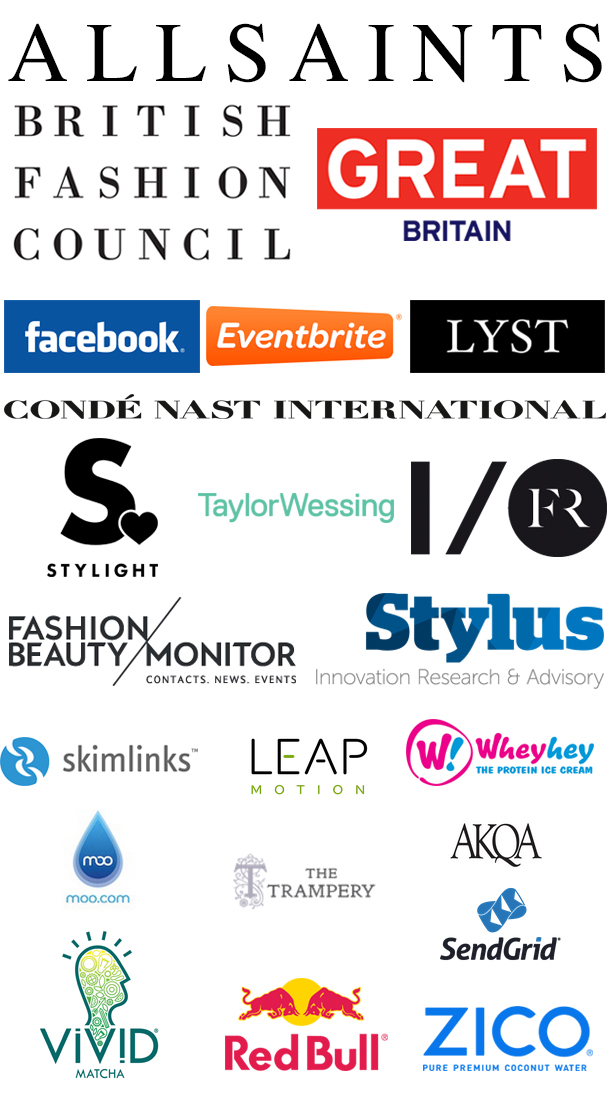 Rules
1. Hackathon Requirements & Other Judging Criteria
The goal is to create an app that creates innovation for Fashion & Retail either to enhance the ecommerce or instore experience. The winning app won't be just about just building a fashion-related idea, but about building a solution that's relevant and creates a tangible impact - engagement, conversion, revenue, etc. In addition, the application must focus on a concept that that the judges determine can be developed into a working product within the next 6 months. This means completeness won't be as valuable as a strong idea.
To assist the brainstorming process, registered teams will learn about some of the issues pivotal to the industry through one email received during the week prior to the event. Teams will also have access to the THE FASHION BRIEF — a Q&A with leaders from top brands — at 11:30 a.m. on Saturday, May 10, 2014. This will be a discussion of what solutions they are craving for, the types of pitches they consider most valuable, and the ones they do not.
2. Team Formation & Submission Guidelines
All participants should be registered at Challenge Post, use the site to form their teams and submit their hacks. Due to the large volume of registrants, we foresee a high number of submissions. A group of "triage" judges will go over ALL submitted hacks and select 30 ideas to be demoed live to the groups of panels.
3. Coding Period & Submission Deadline
Each team must submit their application promptly by 12 p.m. on Sunday, May 11, 2014 in order to demo their application to the judges. The deadline will be strictly enforced. All hacks turned in after the deadline can still be posted on Challenge Post, but will not be eligible for a live demo.
4. Code & Language
Applications may be built in any code language you prefer.
5. Previous Design & Fresh Code
All back-end code must be new and coded on location during the competition. However, you are free to use APIs, open source libraries, previously built hardware, sprites, wireframes, and any design elements you'd like. And you are also welcome to work on the concept for your application before the competition starts.
6. Team Size
A team must consist of between one and four people, but no team may have more than four.
7. Presentations
Presentations will start at 2 p.m. on Sunday, May 11th, 2014. You will have 2 minutes to present your idea to the panel of judges and then have a 60 second Q&A period. You'll have access to a microphone, VGA cords, and projector to display your application. We want to see demos of your idea/application, NOT power point presentations.
9. Photography & Video
By participating all team members consent to their likeness and voice being recorded by video, audio, photographic, or other digital or electronic means, and to use your name in connections with these recordings and to use, reproduce, exhibit, or distribute these recordings in whole or in part in perpetuity in any and all media for any purpose that Decoded Fashion and those acting pursuant to its authority deem appropriate. In addition, by participating you release Decoded Fashion and its agents from and against any and all claims, demands, causes of actions, actions, suits, costs, expenses, liabilities and damages whatsoever that you may have from liability for any violation of any personal or proprietary right you may have in connection with the previously mentioned use of your likeness, voice, or name in any medium. Also all such recordings remain the property of Decoded Fashion.
10. Miscellaneous
Decoded Fashion has the full and exclusive right to disqualify any team or team member for any reason, including but not limited to cheating, threatening or harassing other participants, or otherwise violating either the letter or the spirit of the competition. Decoded Fashion retains the right to change these rules at any time at their discretion. Teams agree that by participating in the Fashion Hackathon no relationship, contractual or otherwise, is established between either the teams or their members, Decoded Fashion, or any of the Fashion Hackathon's sponsors.
FAQ
Do I get to keep ownership of my idea, code and IP?
Yes, you will own 100% of everything you create at the Decoded Fashion Hackathon.
How are teams formed?
You can come with a preformed team. Otherwise we can help you find a team at the event.
Will there be food?
Yes! We will feed you very tasty food for the entire weekend!
Can we stay overnight?
Yes! you can stay in the venue overnight and code to your heart's delight!
Organizer of Decoded Fashion Hackathon, London
We fuel innovation by scouting the best new tech from around the world and bringing it to fashion, beauty and retail brands.
The Decoded Fashion Summit launched in 2012 as the first global event series and networking community encouraging entrepreneurship and advancing innovation in Fashion & Retail. Its events are based in New York, London and Milan and include summits, tech expos, startup competitions and hackathons for Fashion.