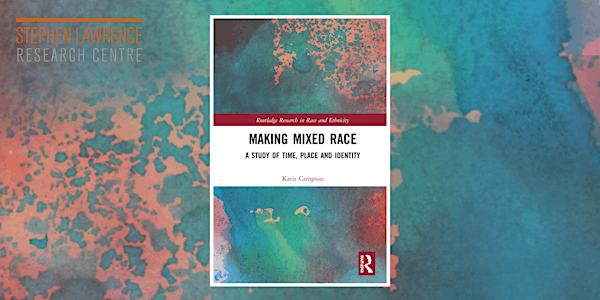 Decoding and Decolonising Mixed-Race: An International Conversation
An International Conversation on Mixedness and Its Intersections
About this event
Karis Campion, author of Making Mixed Race, invites an international conversation on the intersections of mixed-race identities.
Using themes from the book as a starting point relating to; colourism and colonial Caribbean histories; mixed-race desirability and gender; privilege, power, and sexuality, this online panel discussion will decode mixedness and its intersections by bringing their scholarship together in conversation.
The discussion will be loosely based around three talking points, followed by audience contributions and questions
Historicising mixedness and desirability.
Sex(uality), dating and mixed-race.
Mixed-race families and futures.
About The Speakers
Dr Karis Campion is a Legacy in Action Research Fellow at the Stephen Lawrence Research Centre, De Montfort University. She is the author of Making Mixed Race: A Study of Time, Place and Identity (Routledge). The book centres around the life histories of 37 people of Mixed White and Black Caribbean heritage born between 1959 and 1994, in Britain's second-largest city, Birmingham. The intimate life portraits of mixed identity reveal how colourism, family, school, gender, whiteness, racism, and resistance, have been experienced against the backdrop of post-war immigration, Thatcherism, the ascendency of Black diasporic youth cultures, and contemporary post-race discourses.
Professor Shirley Anne Tate is based at the University of Alberta. She has published extensively on racism, affect, hybridity, creolization, beauty and Black anti-racist aesthetics, 'race' performativity, Black/white mixed-race lives and the "race"d and gendered body in enslavement and freedom. Her most recent book, Decolonising Sambo: Transculturation, Fungibility and Black and People of Colour Futurity, decolonises 'sambo' as racialised knowledge, power, being and affect to unsettle its place in the history of 'mixed race'.
Dr Shantel Buggs is Assistant Professor at Florida State University with a joint appointment in the Department of Sociology and the Program for African American Studies. Her research interests centre on culture, race and racism, gender, intimacy, digital life, and work inequity in academia. Her most recent publications explore how race and ethnicity, gender, and sexuality shape the ways that people build and negotiate intimate relationships, with a particular focus on multiracial populations and interracial couplings.
Dr Alyssa Newman is a Hecht-Levi Fellow at John Hopkins University. Her research has explored the production of racial meaning with a focus on multiraciality. She has explored these topics through research projects relating to collective identity formation, biology and genetics, the intersection of mixedness and masculinity, as well as family relationships and reproduction.
In Fall 2022 she will begin a joint appointment at Georgetown University as Assistant Professor of Sociology and Senior Research Scholar at the Kennedy Institute of Ethics.
Making Mixed Race: A Study of Time, Place and Identity (Routledge, 2021)
To preview this title for free visit https://www.routledge.com/Making-Mixed-Race-A-Study-of-Time-Place-and-Identity/Campion/p/book/9780367462918
You can also receive a 20% discount using the code FLR40
By examining Black mixed-race identities in the city through a series of historical vantage points, Making Mixed Race provides in-depth insights into the geographical and historical contexts that shape the possibilities and constraints for identifications.
Whilst popular representations of mixed-race often conceptualise it as a contemporary phenomenon and are couched in discourses of futurity, this book dislodges it from the current moment to explore its emergence as a racialised category, and personal identity, over time. In addition to tracing the temporality of mixed-race, the contributions show the utility of place as an analytical tool for mixed-race studies. The conceptual framework for the book – place, time, and personal identity – offers a timely intervention to the scholarship that encourages us to look outside of individual subjectivities and critically examine the structural contexts that shape Black mixed-race lives.