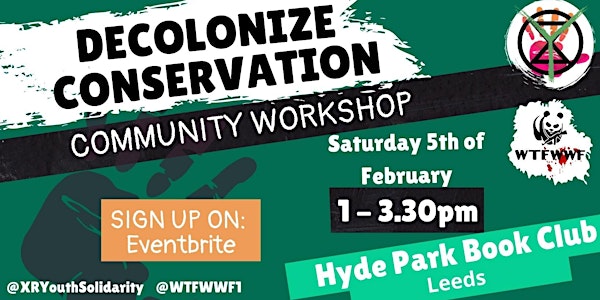 Decolonising Conservation - Community Workshop
Event Information
Location
Hyde Park Book Club
27-29 Headingley Lane
Leeds
LS6 1BL
United Kingdom
Community based workshop - unlearning colonial approach to environmental activism.
About this event
Indigenous peoples safeguard 80% of the earth's biodiversity despite being 5% of the global population, yet conservation is not helping.
The decolonizing conservation is coming to Leeds, Hyde Park Book Club on the 5th of February at 1pm. To unlear, relearn and act to repair the damages of fortress conservation.
I bet you thought conservation is good for the planet right? Like the rest of us do you see it as one of the ways we can start turning the environmental and ecological crisis around?
Well actually you´re right.
Unfortunately, the majority of conservation being done-especially by the big dogs such as WWF, Wildlife Conservation Society, The Nature Conservancy- is doing much more harm than good in so many parts of the world. And the way in which this is happening is through organizations violating the human rights of indigenous and local communities who are often the best in the world at conserving biodiversity.
Colonial conservation better known as fortress conservation, has a sinister and brutal history; a history involving while supremacist colonial settlers violently displacing and murdering countless indigenous people in order to claim ownership of land. From there the colonisers were able to extract, exploit and export Fortress conservation across the world. This model remains operational even today, and just as violent, extractive and destructive.
Join us to learn more, and contribute to the fight against colonial conservation!
And follow @xryouthsolidarity @wtfwwf1
Date and time
Location
Hyde Park Book Club
27-29 Headingley Lane
Leeds
LS6 1BL
United Kingdom