Decolonising Intervention - a talk by Dr. Meera Sabaratnam (SOAS)
Description
"What do international interventions look like to those who are their targets? And what does this tell us about how we can theorise the international?
Mozambique was for many years considered a 'poster child' of post-war peacebuilding - the country was at peace after a long war, elections were held regularly and economic growth rates appeared very high. Yet, it has recently lost this reputation due to considerable political instability.
In this talk, Dr. Sabaratnam presents the findings of her research on international statebuilding interventions in Mozambique, focusing on the experiences and perspectives of Mozambican observers and participants in three sectors - health, agriculture and governance. This gives an insight into the transformation of the state through intervention, the effects it has had (or not) on the wider political economy of Mozambique, and the ways in which discourses of intervention have contributed to public debates around corruption.
Meera Sabartnam uses decolonising research strategies and concepts to generate and analyse the findings; they help us make sense of the conditions of precarity underpinning the changes.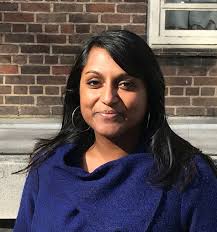 Dr. Meera Sabaratnamis Senior Lecturer in International Relations (SOAS University London). Her research interests are in the colonial and postcolonial dimensions of international relations. She has worked on questions of decolonisation, Eurocentrism, race and methodology in IR and applied these concepts to the analysis of international development aid, peacebuilding and statebuilding, most recently in her book Decolonising Intervention (2017). Her regional interests are in Southern Africa and the Indian Ocean region. Currently she is working on questions of race in IR theory and a postcolonial historiography of the First World War. Dr. Sabaratnam is also interested in questions of higher education policy and practice, particularly in terms of racialised inequalities, access toresearch and academic governance. At SOAS she chairs the Academic Senate and the Decolonising SOAS Working Group.