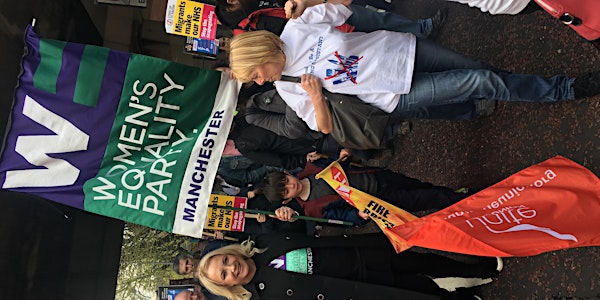 Deeds Not Words: A one day conference celebrating women's activism in MCR
Location
PLANT NOMA
Redfern
NOMA
M60 0AE
United Kingdom
Description
Manchester was recently ranked 365/380 in terms of the best places to be a woman in Britain. While stats like this are unacceptable, they raise an opportunty for us to showcase the work that people are doing throughout our city to actively try and change this situation.
Come and join the Women's Equality Party as we host a one day event bringing together people from across Manchester who dedicate their time and energy to creating a more equal society.
Expect talks from inspirational women about the work that they are doing to benefit women and girls in Greater Manchester, sessions in which you can get your hands dirty and make feminist paraphrenalia, a performance from the WAST choir, alongside campaign groups explaining their work and how you can get involved!
Speakers include:

Sophie Walker, Leader of the Women's Equality Party
Eve Holt, DivaManc, Parliament Project & M4
Joeli Brearley, Pregnant Then Screwed
Gail Heath, CEO. The Pankhurst Trust (inc. Manchester Women's Aid)

Claudia Carvell, LGBT foundation
WAST, Women asylum seekers together
Campaign Stands include:
WASPI, Women Against State Pension Age Change
Every Month MCR, helping beat period poverty... Please bring along any sanitary products you can!
HerStories, Launched by Manchester WEP
REIGN
Safety4Sisters
Stop the Trafik
LGBT Foundation
WAST, Women asylum seekers together
This is an event not to be missed, bringing together diverse women from across the city, to generate new ideas for campaigns and how we can work together to push forward real change!
This event will be...
Child friendly
Accessible - please provide any details of assistance needs, these can be emailed to us following registration
Catered - please provide any details of dietary restrictions, these can be emailed to us following registration
Open to all