Deep Listening® Course - connections/soundings/explorations
About this Event
Six Fridays from November 6th – December 11th
Time: 6:00 – 7:30pm UK Time
Cost: Waged £40 / Low or Un-waged £20 (full course)
This is conceived as a short course, with only 24 spaces available. In order to facilitate and build a supportive group dynamic we respectfully request you sign up for the whole course of 6 sessions, and commit to attending them all – or at least as many of them as you can – we understand that these are uncertain times for us all!
Designed as a fun and nurturing space to join with others, we have selected Friday early evening as a gateway to move from a working week into a relaxed and connected weekend.
Leave the stresses of the week behind you and play!
Suitable for all ages / mobilities
Course description:
Composer and pioneer Pauline Oliveros, founder of the practice of Deep Listening®, describes it as 'listening in as many ways as possible to everything that can possibly be heard all of the time'. There's more to listening than meets the ear!
During the course of the 6 sessions, expect to move, breathe, meditate, listen, sound, dream, create and share in a practice that lifts off judgement and encourages personal and community growth.
Adapted for the zoom environment, each session will involve bodywork drawn from Qi Gong and T'ai Chi, breathwork, listening meditation, and exploration of the Sonic Meditations and other pieces composed by Oliveros. No musical expertise is needed to engage with these deeply democratic and satisfying pieces – however an interest and willingness to engage with others and share sounds, words, thoughts, dreams is necessary to get the most benefit from this connecting and stimulating practice. The Zoom medium is explored in a creative and playful way, and Breakout rooms give space for smaller group work.
If the series is successful and a group coalesces, there is the potential for the sessions to develop and continue in the future.
Requirements: No prior experience is necessary to join the sessions. A spirit of openness and lifting off judgement (not discernment) is encouraged. The bodywork is gentle and adaptable. Wear clothes you can move in. Join with enough space to swing your arms, and a comfortable place to sit for meditation. Bring a journal for your own personal use.
For more information on Deep Listening, visit the website of the Center for Deep Listening at Rennselaer, from whom I obtained my teaching EAR-tification.
Deep Listening®, as developed by Oliveros, explores the difference between the involuntary nature of hearing and the voluntary, selective nature of listening. The practice includes bodywork, sonic meditations, and interactive performance, as well as listening to the sounds of daily life, nature, one's own thoughts, imagination, and dreams. It cultivates a heightened awareness of the sonic environment, both external and internal, and promotes experimentation, improvisation, collaboration, playfulness, and other creative skills vital to personal and community growth.
Deep Listening® is exploring the relationships among any and all sounds whether natural or technological, intended or unintended, real, remembered or imaginary. Thought is included. Deep Listening® includes all sounds expanding the boundaries of perception.
We open in order to listen to the world as a field of possibilities and we listen with narrowed attention for specific things of vital interest to us in the world. Through accessing many forms of listening we grow and change whether we listen to the sounds of our daily lives, the environment or music. Deep Listening® takes us below the surface of our consciousness and helps to change or dissolve limiting boundaries.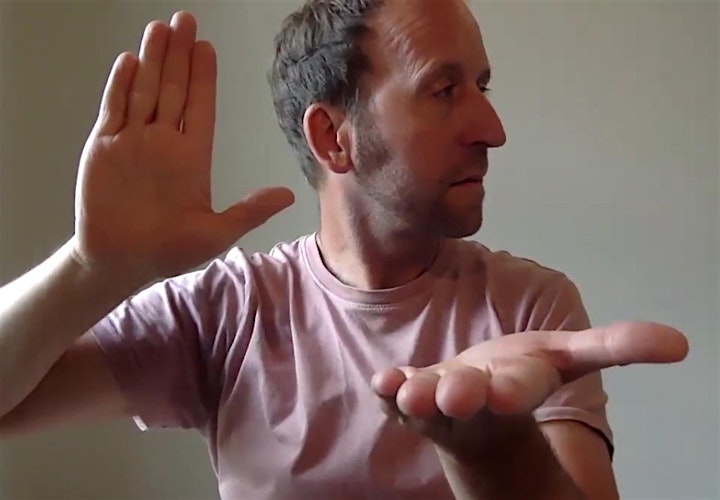 Biography - Jon Petter (facilitator):
Jon is an artist, musician, dancer, composer, arranger and educationalist. He believes in the right of all to an artistic life, and the power of sounding and moving, of singing and dancing, of engagement in music and art to empower, heal, enrich and unite all communities.
Jon has over 30 years experience in the arts. His initial training was as a dancer at Central School of Ballet. He later trained with Community Music and John Stevens' influential 'Search and Reflect' method. He holds an EAR-tificate from Pauline Oliveros' Center for Deep Listening® at Rensselaer.
He has been an English National Ballet Associate Artist since 2008, working as the lead musician on their Dance for Parkinsons programme since 2010. He has worked with Turtle Key Arts since 2002 and began working as composer on the Turtle Song dementia song-writing programme after his own father received an Alzheimers diagnosis in 2007. In 2019 he received a bursary from the Dillon Fund to enable him to become a Visiting International Fellow on the Mark Morris Dance Group's 'Dance for PD' program in New York; whilst there he also studied with Meredith Monk, and her 'Voice As Practice' and engaged with choreographers and singers Pamela Quinn, Katie Geissinger, Tamar Rogoff, KJ Holmes and many at Movement Research.
In Dec 2019 he created Sound-Body-Space: Rituals for the 21st Century, working for 1 month with 18 students at Shrishti Institute for Art Design and Technology, and performed at Chikpete underground station in Bangalore, India.
He works in a busy London comprehensive, teaching instrumental lessons, running bands, choir and orchestra, and being the Musical Director of large-scale productions (West Side Story, Les Miserables, Grease, The Lion King, Billy Elliot, Oliver and Into The Woods - all with his 'from scratch' music arrangements for the 25-piece school orchestra and casts of 60+).
In February 2018 the Jack Petchey Foundation gave him an Outstanding Leader award for his services to music education.