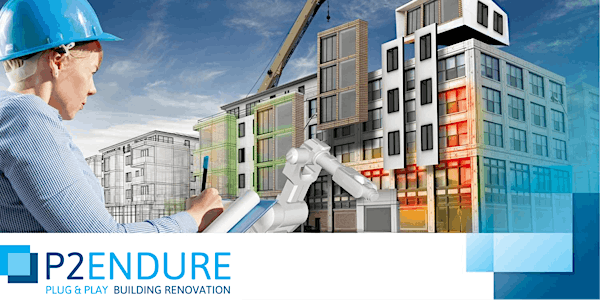 Deep Renovation Joint Workshop
Event Information
Location
Hotel Cardinal St Peter
Leone Dehon, 71
00165 Rome
Italy
Description
The event is hosted by P2ENDURE, a EU funded project that has received funding from the Horizon 2020
research and innovation programme under grant agreement No. 723391, and it is organised in conjunction with EENSULATE and ENVISION H2020 projects.
P2ENDURE aims to improve the availability and performance of energy saving solutions for deep renovation and transformation of vacant, obsolete or sub-optimal public buildings into dwellings.
The project provides Plug & Play solutions which are:
ready to implement,

affordable,

50% faster from production to on-site assembly,

scalable and adaptable (in all European countries).
The "Deep Renovation Joint Workshop" will bring together stakeholders representing key decision makers and implementers in the field of deep renovation of buildings, along with retrofitting solutions users, and developers for an array of interactive poster sessions and discussions, and a unique hands-on showcase of innovative deep renovation of building solutions.
The objective of the Workshop is to raise awareness on the most innovative building renovation and energy saving solutions and as well as to present and discuss altogether the main features of P2ENDURE e-Marketplace.

Read the workshop's agenda and register now!
---
9:00 Registrations
9:15 Opening of activities, Introduction to the scope of the event and agenda
9:30 P2ENDURE project presentation
9:50 4RinEU project presentation
10:10 Pro-GET-onE project presentation
10:30 Coffee Break
10:45 EENSULATE project presentation
11:05 ENVISION project presentation
11:25 Workshop Methodology
11: 35 1st INTERACTIVE POSTER SESSION

P2ENDURE solutions &demo
ENVISION solutions &demo
Pro-GET-onE solutions &demo
12:45
Lunch
13:30
2nd INTERACTIVE POSTER SESSION

EENSULATE solutions &demo
4RinEUsolutions &demo
ENERFUND solutions &demo
14:40 e-Marketplace workshop (1 – technical)
15:35 e-Marketplace workshop (2 – business)
16:30 Wrap up & Conclusions
Date and time
Location
Hotel Cardinal St Peter
Leone Dehon, 71
00165 Rome
Italy