Skip the small talk and kickstart the connection and relax into the evening with some easy ways to help you get out of your work mode.
About this event
You know, like we know that relationships are built when a connection is made between one or more people.
Chemistry grows from the seed which is planted as a result of connecting face-to-face, across a room, across a table, after a touch, with a smile, with a glance or the smallest of suggestions.
People increasingly desire authentic connections and this has led to a hunger for deeper conversation; a desire to sit uncomfortably within their vulnerability. Did you know vulnerability is sexy? Oh yes it is!
Tailor Matched and The Authentic Man have devised a night where the real you will be celebrated.
Bring the naughty side and an authentic smile. We will celebrate your quirkiness, kinkiness, sensitivity, downright dirtiness and help you establish compatibility straight away; as you both share your deepest thoughts.
How? We'll skip the intro--you know that smalltalk--and catapult you right into the thick of it, as we kickstart your evening with real, meaningful and intimate conversations. Each person will be given a variety of conversation starter cards as well as some helpful hints and tips to encourage fun, naughty and authentic conversations.
Nobody will be left tongue-tied or twisted as we'll give you the cards that get to the heart of the matter; down to the all so delicious nitty gritty.
Skip the small talk and kickstart your connections cards and relax into the evening with some easy ways to help you get out of your work mode and into your social mood and explore real chemistry with us.
Finding your match has never been more fun.
Deeper Dating is for you if you:
• Over hit and miss dating
• Wanting to meet people who you are compatible with
• Seek a deeper connection NOT a hook-up
• A bit adventurous and willing to give something new a try
• Are single and tired of shallow swiping
• Long to connect on a deeper level
Tailor Matched, offline dating for the wild at heart. Tailor Matched is a nationwide thought leader in romantic and sexual compatibility with a community of curious singles ready to explore their wants and needs in side and outside the bedroom.
Authentic Dating Series. David is a male coach and host of Authentic Dating Series, a platform for empowering men to take control of their dating life, through their podcast, events & coaching.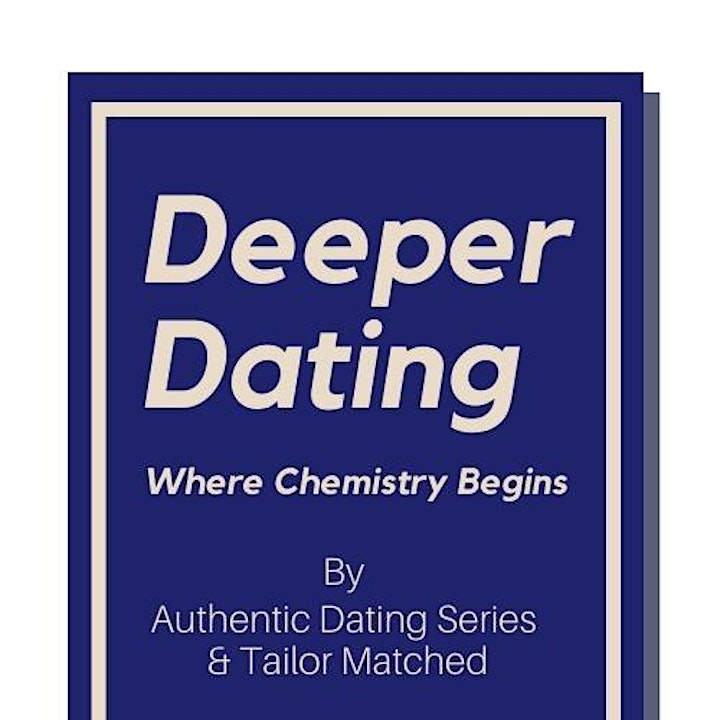 Organiser of Deeper Dating - speed dating where chemistry begins. Age 30-50