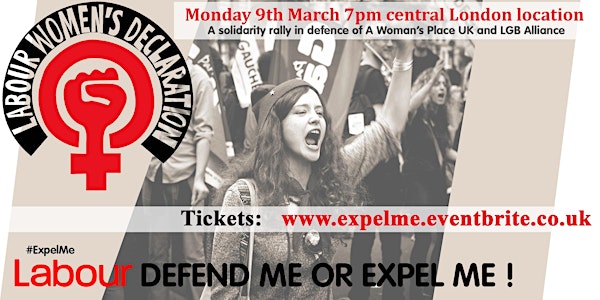 DEFEND ME OR EXPEL ME! Solidarity rally in defence of Woman's Place UK and...
Location
To be confirmed - Central London
United Kingdom
This rally, hosted by Labour Women's Declaration supporters in London, calls on Labour MPs to defend Woman's Place UK and the LGB Alliance
About this event
Woman's Place UK and the LGB Alliance support Labour's 2019 commitment to enforcing sex-based rights, and yet they have been branded 'hate groups' in a pledge that has been signed by most leadership candidates.
Incredibly, this pledge calls for supporters of Woman's Place UK and the LGB Alliance to be expelled from the Labour Party for daring to challenge extremist gender ideology and say that sex matters. 
Like the many Labour supporters who took to Twitter to say #Expelme, we stand in solidarity with Woman's Place UK and the LGB Alliance and ask the Labour Party to defend us or expel us!
All Labour supporters are welcome, including the disillusioned ones, we want this event to help the Labour Party get back into power!
Speakers
Julie Bindel – Journalist
Paul Embery – Trade unionist
Debbie Hayton – Trade unionist and transwoman
Bev Jackson – LGB Alliance
Lucy Masoud – Trade unionist and feminist
Lachlan Stuart - former Labour Party policy advisor
Selina Todd - Academic and writer
Kiri Tunks - Woman's Place UK
The event is being organised by volunteers. We are charging to cover the costs of venue and equipment hire, and security.
All profits from the sale of tickets go to The NIA Project delivering cutting edge services to end violence against women.
Venue will be confirmed by email on the day.
Accessibility
The venue is wheelchair accessible. There will be a BSL interpreter if requested.