Defenders of The Sacred: Thomas Lopez Jnr International Indigenous Youth Co...
Description
Defenders of The Sacred:
Indigenous Protectors and Activism
Artivism Knowledge Initiative (AKI) in partnership with Writing on The Wall, University of Liverpool and SOAS Native Spirit Film Society co-curate a symposium on the revolution of Indigenous cultural and environmental activism.
We invite you to join us in welcoming Thomas Lopez Jnr of the International Indigenous Youth Council who will speak about his time at the Standing Rock Camps, sharing insights about the experiences of young people at the protest, about the challenges Native Americans face in the USA today, and how IIYC is empowering Youth.
Alongside the talk we will be screening films made during the stand-off at Standing Rock, and 'Islands Sanctuary' from the series 'Standing on Sacred Ground', music videos and other film selections as time allows.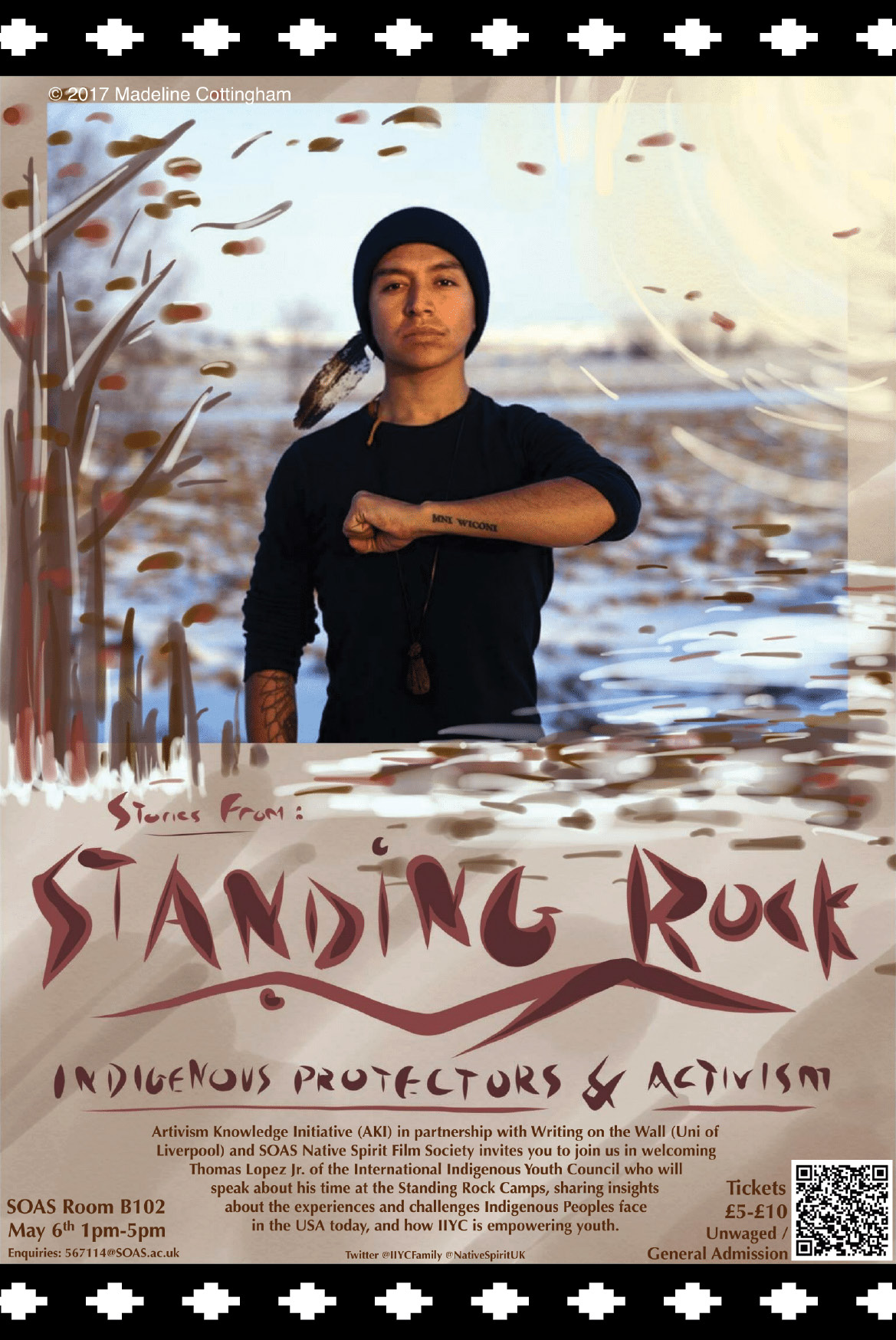 Oil 4 Blood by Frank Waln Sicangu Lakota Hip Hop Artists. Producer and performer from the Rosebud Reservation in South Dakota. Waln's awards include three Native American Music Awards, the National Centre for American Indian Enterprise Development 2014 Native American 40 under 40, and the 2014 Chicago Mayor's Award for Civic Engagement.
The Land of Enfrackment by Def-i was inspired by the #NoDAPL Resistance. An Albuquerque native, a member of New Mexico's Foundations of Freedom Crew since 2003. As well as being part of Skull Control Records, Chief Rockers, and Definition Rare, Def-i fell into MC'ing and beat-making while growing up in the Dine reservation as a young percussionist and poet.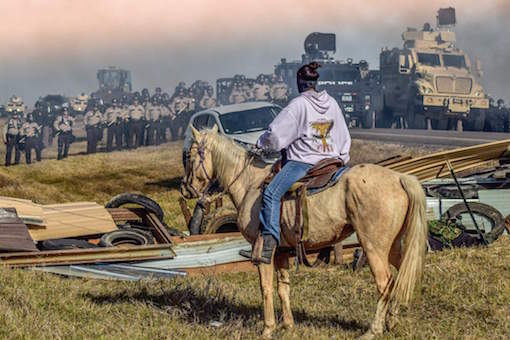 Background info

The Standing Rock Lakota Nation led the protest against 'Big Oil' at the Cannonball River, North Dakota, USA in 2016. The Standing Rock Nation believes the pipeline's route threatened their only water source and was planned without going through the proper channels. The Protests, for the first time in 500 years united 200 Indigenous Nations to resist the Dakota Access Pipeline. The Pipeline has now been approved by the current Republican Administration. Thomas Lopez will be presenting his personal story as Water Protector at the #NoDAPL resistance camps.
Thomas Tonatiuh Lopez is a college graduate from Metro State University of Denver with a bachelors degree in Technical Communications and a minor in Native American Studies. Born and raised in Denver,Colorado; Thomas identifies as Chicano paying homage to his Mexican, Diné, Apache and Hunka-Lakota roots. He is a grandson of Chief Leonard Crowdog and the son of Water Woman Sharon Lopez and Sundance leader Thomas Lopez Sr. He spent months working with the International Indigenous Youth Council on the ground at Standing Rock to defeat the Dakota Access Pipeline. He is continuing his work as a leader and mentor for the IIYC; being a voice for those who have been silenced.

---
Please note Thomas is currently available to speak Sunday 7 May - please share this information with potential hosts in or within 1hrs radius of London.
Partners are asked to contribute towards the cost of Thomas Lopez's fee, travel and expenses. If interested please contact Uma udr75@hotmail.com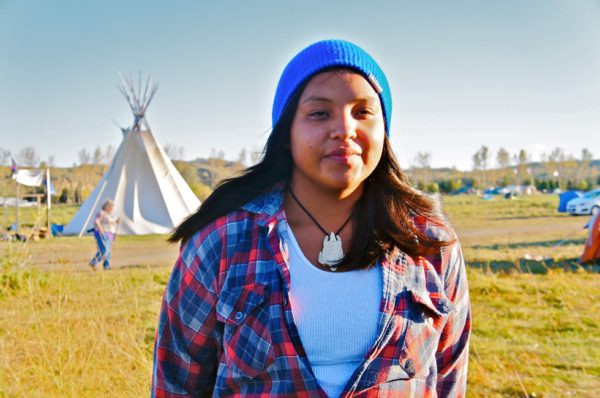 Jasilyn Charger, International Indigenous Youth Council
Further Reading -

FREE PRIOR & INFORMED CONSENT

- TREATY RIGHTS - DIVESTMENT