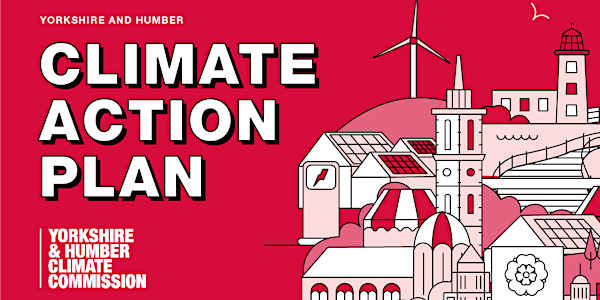 Delivering climate action: a post-COP agenda for Yorkshire and Humber
As the dust settles on COP26, the Yorkshire and Humber Climate Commission invites you to a discussion about the next steps for the region.
About this event
We'll hear some reflections from people who were there on what the global negotiations mean for us here in Yorkshire and Humber.
And Commissioners will explain how the Yorkshire and Humber Climate Action Plan can help us to reach our regional targets for net zero and climate resilience.
The Action Plan was launched on 10 November at the first ever Yorkshire Climate Summit, attended by over 200 delegates, including politicians, policy makers, businesses, community groups and academics. Watch the Yorkshire and Humber Climate Commission presentation here.
The Yorkshire Post highlighted the 'watershed moment' we are now facing in the fight against climate change, as the Commission's plan for the region made front page news and received regional television coverage on the BBC and ITV.
We hope you'll join us to discuss how we move forwards rapidly in tackling the climate crisis.
This event is open to everyone.
If you have any questions please email info@yorksandhumberclimate.org.uk
Agenda
Agenda
7.00pm Welcome
7.05pm What does COP26 mean for Yorkshire and Humber?
Speakers:
Natasha Nauth (Climate Lead, NatWest)
Emma Richards (Head of Project Development, Carbon Literacy Project)
Simon Bowens (Regional Campaign Organiser, Friends of the Earth)
Will Soloman and Jude Daniel Smith (RYCA - Regional Youth Climate Assembly)
7.35pm An overview of Yorkshire and Humber's Climate Action Plan
Speakers:
Andy Gouldson (Director, Yorkshire and Humber Climate Commission)
Simon Pringle (Project Rome)
Rachel Harcourt (University of Leeds)
8.00pm Q&A
8.30pm Close
Organiser of Delivering climate action: a post-COP agenda for Yorkshire and Humber