About this Event
If you are a 3n Strategy customer, the cost of this workshop is included as part of your implementation. Please get your discount code from your project manager.
Is your organisation implementing the SuccessFactors Workforce Analytics (WFA) module?
The implementation of the WFA module is different from other SuccessFactors modules. To deliver a successful implementation and set your organisation up for a successful subscription, you will need to approach things differently.
By attending this virtual training session, participants will learn:
What does a successful WFA subscription look like?
What is involved in a WFA implementation?
What stakeholders will you need to engage? Who will you need on your team?
What will your project planning need to look like?
If you have any questions, please email contact@3nstrategy.com.
About 3n Strategy
3n Strategy is a SuccessFactors partners that specialises exclusively in the strategic adoption and technical implementation of the analytics modules. Unlike other modules, success in analytics requires a different approach and understanding - we have supported customers to be successful for over 10 years.
About the Instructors
This workshop will be led by Nigel Dias and Mercedes del Castillo.
Nigel Dias is a globally recognised SuccessFactors analytics and strategic workforce planning specialist, who has worked with the SF tools for over 10 years. He is the Managing Director of 3n Strategy, a former SAP/SuccessFactors/Infohrm consultant, and is Chair of the HR Analytics ThinkTank research partnership.
Mercedes del Castillo is a senior consultant, and former SuccessFactors/Inforhm employee, and has worked with over 100 customers for over 20 years in the implementation and usage of the workforce analytics and workforce planning tools. She has worked across the world, including running the implementation teams in APAC and the US. In her role within the implementation process, Mercedes conducts data acquisition requirements gathering activities, provides advice on implementation best practices and develops specification documents and data acquisition programs tailored to each client.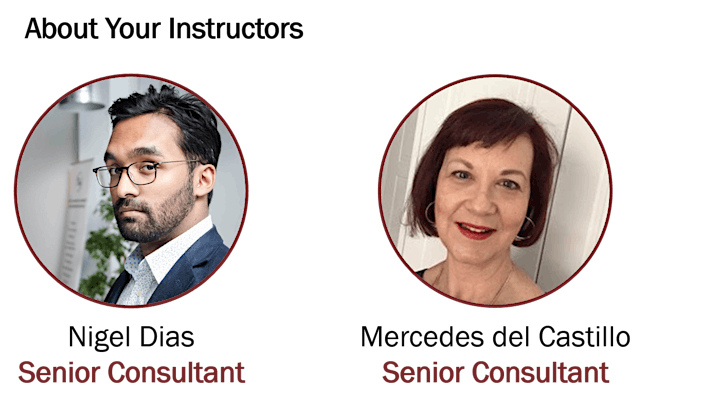 Date and Time
Location
Refund Policy