Dementia and the Black Community
About this event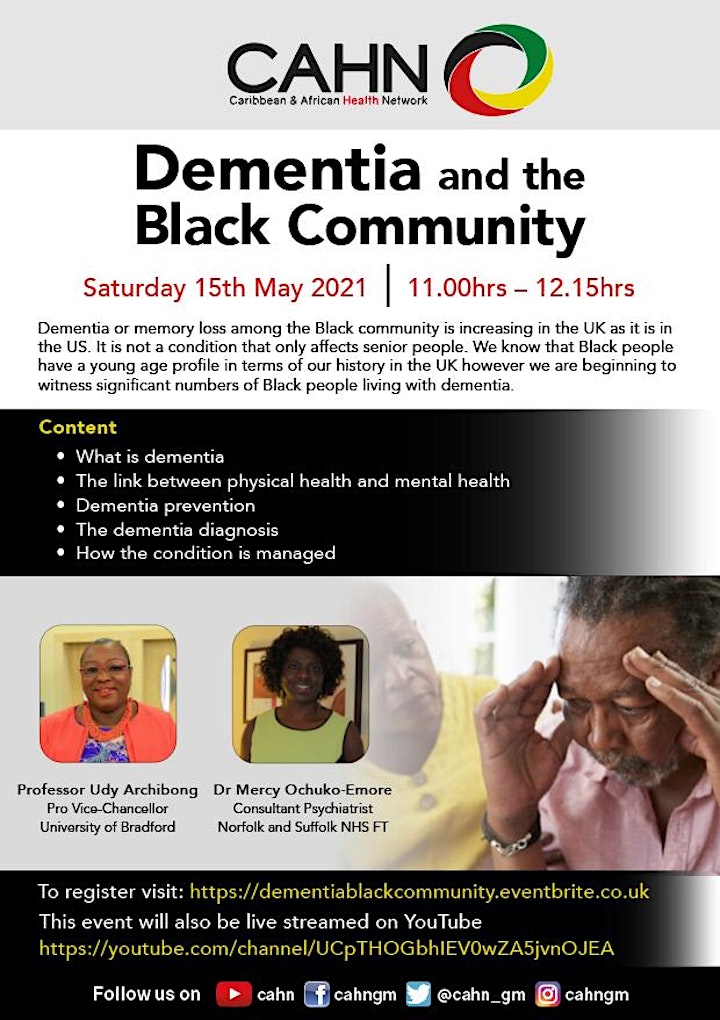 Dementia or memory loss among the Black community is increasing in the UK as it is in the US. It is not a condition that only affects senior people. We know that Black people have a young age profile in terms of our history in the UK however we are beginning to witness significant numbers of Black people living with dementia.
Content
What is dementia
The link between physical health and mental health links to this diagnosis
Dementia prevention
The dementia diagnosis
How the condition is managed
We are delighted to have Professor Udy Archibong who has specialist expertise in dementia and has a lens which focuses on this in ethnically diverse communities. Udy also has a charity that focuses on dementia
We are incredibly excited to hear from Dr Mercy Ochuko-Emore who specialises in dementia as a psychiatrist. Mercy will share her clinical work and help us to understand the importance of working across sectors to support those with a dementia diagnosis
Guests Presenters
Professor Udy Archibong Pro Vice-Chancellor University of BradfordMercy Ochuko-Emore – Consultant Psychiatrist
Dr Mercy Ochuko-Emore, Consultant Psychiatrist, Norfolk and Suffolk NHS FT
Once you have registered, an email will be sent to you with the login details for the event
Join via Zoom-
https://us02web.zoom.us/j/84516756373
Meeting ID: 845 1675 6373
One tap mobile +442034815240,84516756373#
We look forward to seeing you on Saturday for this important session impacting Black communities. Please remember to join with the registration name on Saturday
Organiser of Dementia and the Black Community
CAHN is an umbrella organisation that works with the Caribbean and African community across GM to reduce health inequalities. We ensure that service providers are aware of community needs and facilitate discussions for improved outcomes. CAHN is co-producing the event with Greater Manchester Health & Social Care Partnersip and other local charities.