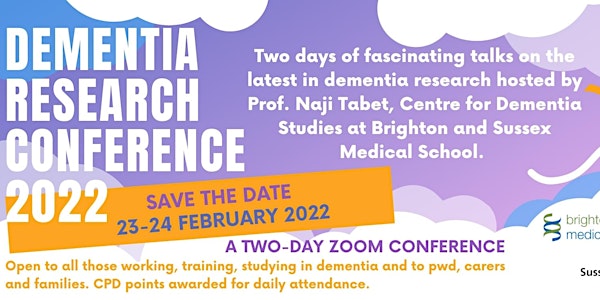 Dementia Research Conference 2022
Join us for a 2-day event showcasing the latest in dementia research hosted by Prof Naji Tabet, Director, Centre for Dementia Studies
About this event
23 & 24 February 2022, 10.00am-4.30pm
Professor Naji Tabet, Director Centre for Dementia Studies and Dementia Lead, Applied Research Collaboration Kent, Surrey, Sussex, will host a range of speakers (with a mix of live and pre-recorded presentations) focusing on key themes of:
implementation of findings in clinical services and
improving quality of life for people with dementia and their families and carers.
Please book your place and we'll send you a Zoom link to join us a little closer to the time.
You can attend one day or both, CPD points available for each day - the zoom link will be the same for each day.
If you want to tweet on the day, please use the hashtag #DRC2022
See more details here: https://www.bsms.ac.uk/about/events/2022/02-23-dementia-research-conference-2022.aspx