Democracy- how to we move to a better model of leadership in the age of crises? 1 Day Conference on Line-
About this event
Leadership group -Prof Simon Mouatt, Ewa Suffin, Miranda Brown and Miriam Kennet
1 day conference- corruption, democracy- how to we move to a better model of leadership in the age of crises?
The future of Democracy ? what will post covid democracy look like?
What are the issues? Who are the guardians of democracy ?
This one day event explores the future of democracy in the post covid world
Reshaping, reclaiming rethinking democracy.
Exploring the threats to democracy
Understanding the long term temporal aspects of democracy as well as the spatial aspects to it.
Ensuring everyone is fairly represented- understanding new powers
Session 1 What is the crisis of democracy -can it survive?
Setting the scene- the impact of Digitalisation, climate, biodiversity, pandemics, corporations, corruption, investment, algorythms, extremes of oligargic power and finance, media converging to destroy agency, choice, information, truth, news and education.
Session 2 Inclusive democracy, mulitiplicity and diversity of solutions- giving the space for different people to develop their own solutions-
Session 3 Why and how do people choose Pyscopathic leaders and power
Session 4 are we descending into neo feudalism:The threat from corporatisation of democracy and privatisation and corruption.Economics and democracy -divergent aspirations -?
SDG and sustainability- inclusivity and gender- women as matrifocal leaders- how does it work -what can it offer- why do we need it now? Cimate and democracy-
Session 5 -sensing our own autonomy
Session 6- Putting it all together- reassuming power to the people.
Themes:
The threat from allowing platforms to become the arbiters, owners and curators and arguably non curators of truth, knowlege and power as well as the only space for human interaction.
Experts advise what it means and our own responsibllities in shaping an inclusive pluralist, fair and just world we trust and can be proud of after covid.
Economics and democracy -divergent aspirations -?
Exploring the role of Experts- gender- inclusion -what is an expert? Who funds and who decides who an expert is? What are so many expert panels still presented by four white men -and what we can do to change this -as it matters- as arbiters of truth, power and knowledge. How to inject more pluralism into democracy.
The role of leadership in the 21st century- for 10,000 years we have followed the patriarchy. Is this now changing. What do matrifocal societies look like and how have they constructed their nations response to the crises of biodiversity, climate and health?
Exploring the role of Think Tanks as arbiters of truth, democracy and knowledge
Exploring the role of Foundations as policy pointers and curators of future knoweldge, science and rights?
What are the role and concepts of regions and transboundary and transnational Institutions.
Nature and democracy- how are they related ?
Climate and democracy - ? what are their twin futures?
The role of the state in the health, safety and well being of its citizens directly contracts the privatised neo liberal model of economics and 'no such thing as society' and often the way the citizens choose to vote-How is this possible- ? what is the role of the media and presention in a democracy -- what happens when they no longer serve the interests of the people -but small privatised vested interests ? when they represent fossil fuel companies and others- so the two diverge? which do citizens want now? and how do governments deliver this. What are the implications.
Exploring the role of the state- is the nation state back ? in a privatised form?
Exploring the role of precarious economy and unequal economies- neo feudalim?
Exploring the role of IT and its power -does it contradict democracy?
What do we want our democracies to do in the future
What is the role of the media- and how do we reconstruct democratic media that works for the people?
The balance between sanitary health safety and democracy freedom and transparency
Call for participants, papers, speakers, workshops, book chapters, books- a space to conceptualise new forms to reclaim our democracy.
Speakers May Include:
Professor Thomas Duncanson (USA )
Professor Simon Mouatt (UK)
Miranda Brown (Canada)
Ewa Sufin (Poland)
Michelle Gale USA
Hans Kare Flo (Norway)
Ewa Sufin ( Poland )
Professor Maria Madi (Brazil)
Professor Simon Mouatt (UK)
Speakers from ENOP European Network of Political Foundations (Belgium)
Speakers from Think Tanks (USA)
Leena Ahmed ( UK)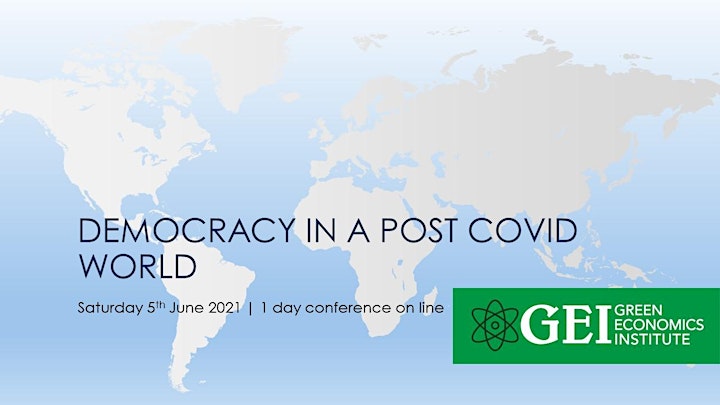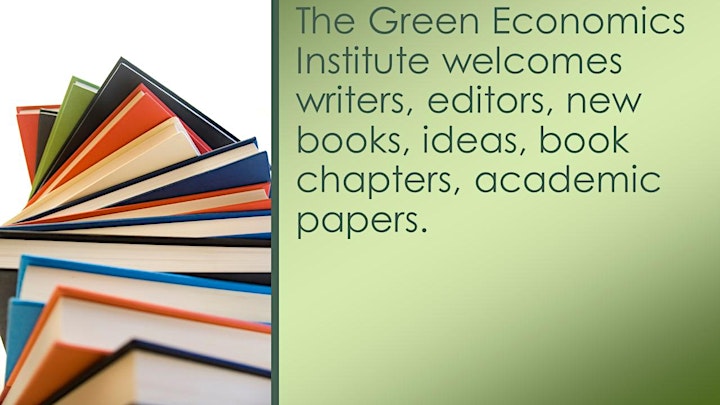 Organiser of Democracy in the Post Covid World- What will it look like?
The Green Economics Institute is based in the UK and provides inspirational leadership for ecological, social and economic justice transformations fit for the 21st and 22nd centuries.
The Green Economics Institute, is active throughout Europe, and runs a global network, impacting European policy development and outcomes.
It works on climate and visioning the future, long term frameworks of the economy and civilisation, basing its ideas on scientific and philosophical research. All its activities feature its unusual profile of European and global voices of non standard actors and its emphasis on holism, sustainability, future resilience, inclusion and diversity. This includes expert work on philosophies of social justice and mobility, refugees and migration.
It is a Members' network and the professional body for Green Economics practitioners, policy making and practical organisation of innovators, philosophers and thinkers to envision and lead towards a world which meets the needs of all people everywhere, ( especially women ) nature, other species, the planet and its systems. Its team members usually have a multi mode background, often cross border, and always firmly rooted in the real world.Its include practitioners, scientists, academics, business people, and supply chain experts, mapping the downturn in human destruction of nature, the economy and the environment and are well placed to suggest a recovery path, both in terms of human health and also the environment and nature.
Its Publishing House GEIBooks, has over 100 titles in print, and each one provides a global network of people and voices advocating a message and campaign for change towards a more benevolent and beneficial world. The Green Economics Institute has a TV station, an academic journal, a members' magazine, a specialist climate science organisation, a Charity and a Conference Making organisation. The Institute has world class speakers speaking often in parliaments and Universities around Europe, Nobel prize winners, national business award winners and others, professors, students, farmers, business people.
It has its own large delegations to the United Nations Climate Talks UNFCCC. which include exhibition stands and climate events and is an official Research Organisation of the United Nations. Its work is used around the world by governments, kings, princes, global institutions, businesses, students, philosophers, economists and many more.
It runs courses at all levels for qualifications, including field trips, summer schools, youth in action, Erasmus, short courses long courses, post doc supervision, and lectures in many European Universities and many others. It also runs regular conferences to support its campaigns and to encourage debate and progress both on line and mainly in Oxford and around Europe. It runs regular exhibition stands, publishing and giving speeches and hosting conferences in most countries in Europe