Description
Rapture Theatre presents Democracy
Join us for a pre-theatre drinks reception and director's welcome
DEMOCRACY: 7:30PM 
THE RYAN CENTRE, STRANRAER DG9 7AP
RAPTURE THEATRE IN ASSOCIATION WITH MACROBERT ARTS CENTRE PRESENT DEMOCRACY BY MICHAEL FRAYN,
A GRIPPING SPY THRILLER BASED ON A TRUE STORY FROM THE WRITER OF THE WEST END SMASH NOISES OFF
And to celebrate this exciting drama coming to Stranraer's Ryan Centre, Dumfries and Galloway Arts Live requests the pleasure of your company for a free pre-theatre drinks reception and welcome by Rapture Theatre Director Michael Emans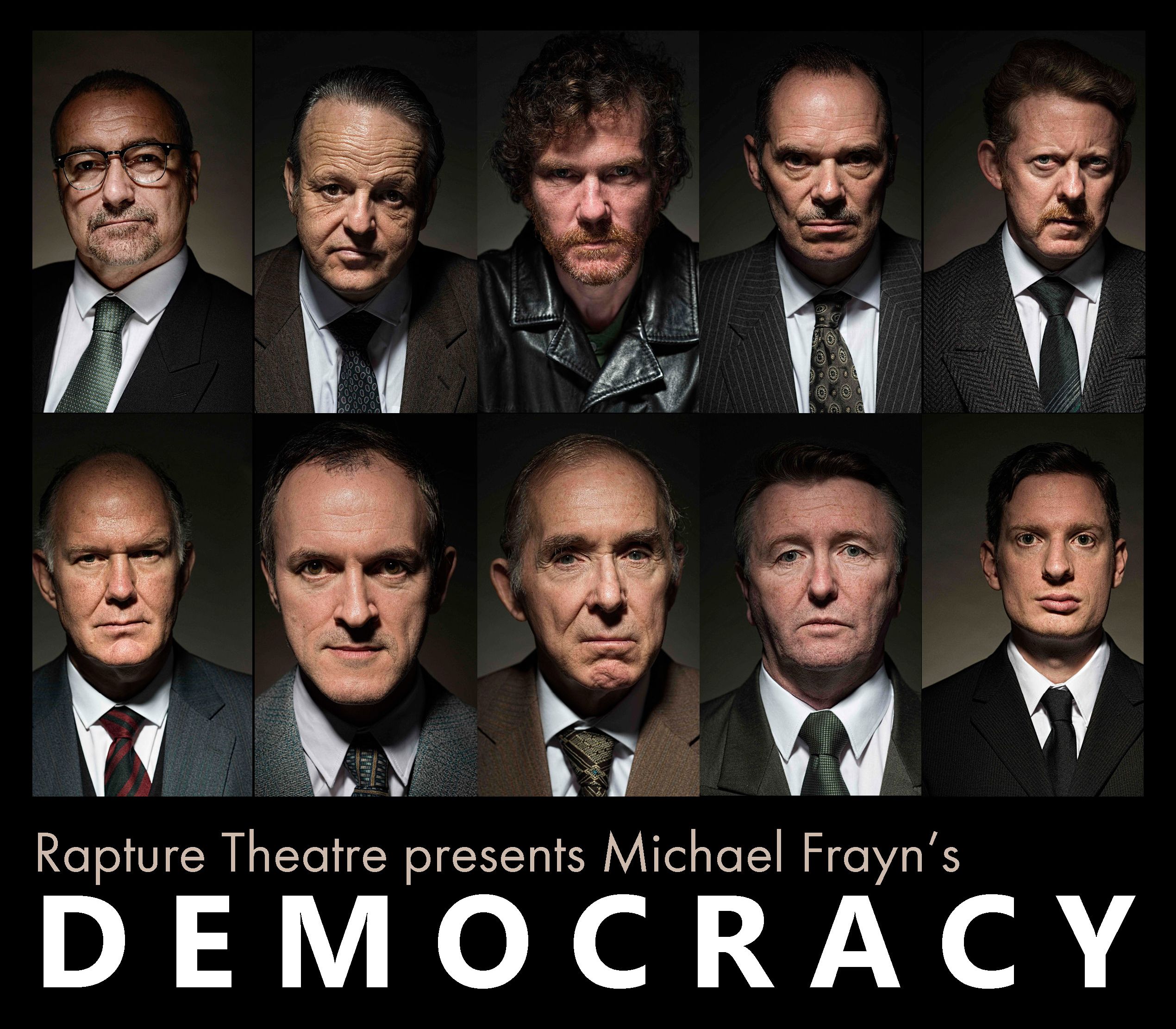 West Germany, 1969. Charismatic Willy Brandt has been elected Chancellor. However, his own political party are starting to plot against him. As his enemies tighten the noose around his neck, and the threat of an East German spy in his own office is discovered, Brandt believes the only man he can truly trust is Gunter Guillaume, his devoted personal assistant. But in the world of political intrigue, espionage and betrayal, who can you trust?
Shakespearean in scale but with all the twists and spins of modern politics, Democracy combines the fascination of a John Le Carre thriller (Tinker, Tailor, Soldier, Spy, The Night Manager) with the dynamism of The West Wing or House of Cards.

Witty, thought-provoking and highly entertaining, Democracy is a compelling and unmissable night at the theatre.
Fresh from an acclaimed West End run in Gypsy, movie actor Tom Hodgkins (Red 2 and Hanna) leads the cast as Willy Brandt, with Brookside and RSC actor Neil Caple as Gunter. Completing the 10 strong cast is Colin McCredie (Taggart), Sean Scanlan (River City),Michael Moreland (Under the Skin, 16 Years of Alcohol), Jack Lord (Crime & Punishment), Alan Steele (Bard in the Botanics), Jim Kitson (Globe Theatre), Steven Scott Fitzgerald (Shang–a–Lang) and Stewart Porter (River City, Shetland and The Sash).
The play starts at 7.30pm.
Tickets £12 (£10 U26) and further information from the Dumfries and Galloway Arts Live WEBSITE