Location
The Media Centre
7 Northumberland Street
Huddersfield
HD1 1RL
United Kingdom
What do you want and expect from your councillor? How do you find out what your councillors do? Come and share your experiences and ideas.
About this event
Wish it was easier to find out about local issues and decisions that affect you? Want to help improve our local democracy? Please join us for the first event in this year's Local Democracy Week programme.
Democracy Seekers get-togethers are informal discussions and workshops, open to anyone who is interested in helping to grow a stronger local democracy here in Kirklees.
At this session we'll be talking about councillors, with a focus on how we can make it easier for citizens to find out what our councillors do. You'll have the opportunity to share your experiences and ideas.
We'll be asking:
What do you want and expect from your councillor?
How do you find out what your councillors do?
And how could councillors make better use of digital tools to connect with us?
The session will be opened by Cllr Cathy Scott, Kirklees Council Cabinet member for Housing and Democracy.
What we learn together during the session will be shared with the Kirklees Democracy Commission Working Group, and will help to inform our ongoing work to strengthen our local democracy.
We're meeting in Café Ollo at The Media Centre. You are welcome to come along any time from 5pm onwards. The session will begin at 5.30pm. A selection of hot and cold drinks and some snacks will be available before and during the session.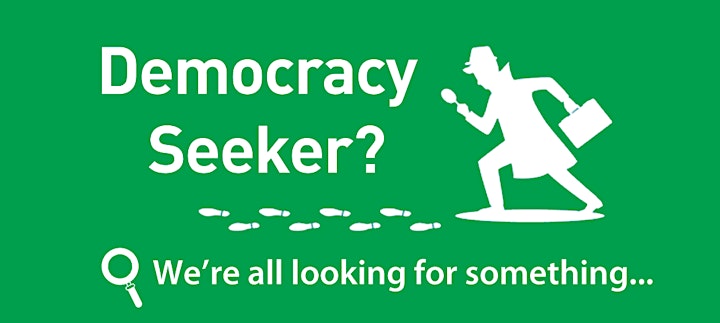 Be a Democracy Seeker
For us, everything starts with the citizen. By taking part in Democracy Seekers, you'll be helping to improve our democratic information so that everyone can get involved in local democracy more easily. We want to make sure that you can have meaningful input into how our local democracy works. So we are organising Democracy Seekers gatherings when there is a specific task or activity for us to collaborate on. We'll also offer the option for people to take part online.
Register now to take part in our "What do councillors do?" session.

Be part of Local Democracy Week 2019
Local Democracy Week is a great opportunity for people of all ages to learn more about our local democracy and get involved in civic life. Check out our events programme for October 2019 & get tips about running your own event:
Local Democracy Week 2019 events