Description
At this event we will be considering the following topical questions for digital health: what exactly is an open platform? How can open source and open platforms be implemented in health? We'll share how Leeds is embarking on an open platform with a Person Held Record, consider the wider opportunity for the region(s); how this approach is changing the market place; what the opportunities are for digital health SMEs. Our speakers are: Peter Coates - director at Apperta Foundation CIC and head of ecosystem development at NHS Digital; Phil Barrett - director at Ripple Foundation CIC; Anne Cooper – Chief Nurse at NHS Digital and advisor on patient voice; Alastair Cartwight - director of informatics for NHS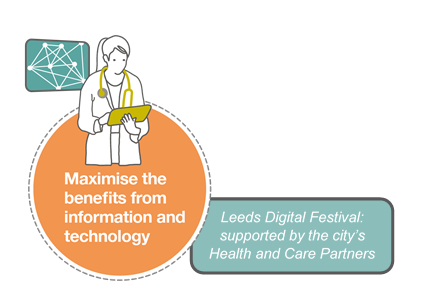 Our city's Health and Wellbeing Strategy 2016-2021 sets out a clear vision that 'Leeds will be a healthy and caring city for all ages, where people who are the poorest improve their health the fastest'. This includes maximising the benefits from information and technology as a key priority. The health and wellbeing strand of the Digital Festival is a celebration of the diverse and innovative work taking place to help us achieve our shared, bold ambition for Leeds to be the best city for health and wellbeing.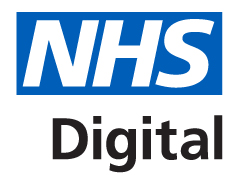 Based here in Leeds, NHS Digital is harnessing the power of technology and data to improve the use of health and care resources and make lives better.
As the national IT partner to the health and social care system, we provide a range of services and expertise including infrastructure that keeps services working 24/7, data security services, more than 200 official statistical publications and vital information that helps patients, doctors and nurses every single day.
We are one of the largest employers in not only this city, but nationally as a leading organisation for technologists, analysts and specialists from a spectrum of fields, from communications to finance, who want to make a difference.
We will be taking part and hosting events throughout the festival so come along and find out about what we do, why it matters and how you can get involved.
Organiser of Demonstrating the Open Platform Push and the Person HELD Record
We are a co-design, digital inclusion and innovation team hosted by Leeds and York Partnership NHS Foundation Trust. Our mission is to co-design inclusive digital innovation and improvement in health and care to support everyone to thrive. We work with like-minded partners from across sectors, systems and places to achieve impact and influence.
Inclusion | Innovation | Improvement
Formerly mHabitat we are the same great team on a brand new mission with a brand new name. For now you can contact us in all the usual ways, as well as using our new information.