Description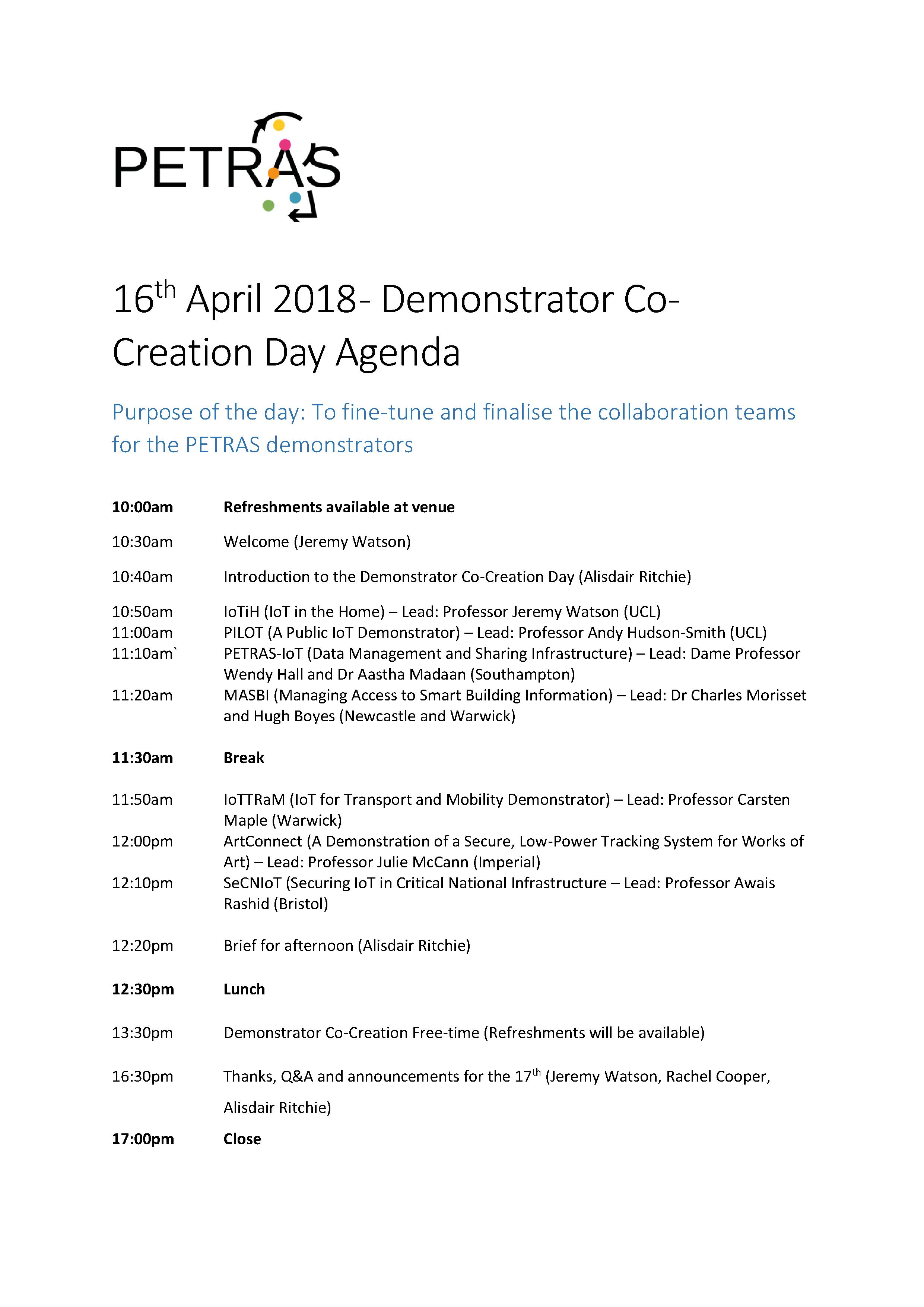 The PETRAS programme has a KPI to create four demonstrations that take the research it has produced and evidence its purpose and value in a real-world environment. The evolution of these demonstrators will be a central focus of PETRAS over the next 12 months and the process to get this moving is well under way right now with seven demonstrators having currently declared their interest.
As a final step in the evolution of these demonstrators, we have organised a Demonstrators Co-Creation Day on the 16th April which is the focus of this invite. This co-creation day is designed to give interested PETRAS academic and industry partners a final opportunity to shape what the demonstrator will look like before it is assessed. This will provide an opportunity to evolve or merge ideas, talk to industry partners who are present on the day and to bring on board new collaborators, resources, knowledge and ideas.
The culmination of this will be the Demonstrator Assessment day taking place the following day (17th), where a small number of individuals from each demonstrator will present (you will be notified if you are presenting in due course) to an adjudicating panel who will present their assessment by the end of that day.
Important points to note:
There will be a social event/dinner on the evening of the 16th April and we would appreciate it if you could indicate whether you would like to join us for dinner by selecting the relevant option when registering. Please note that the deadline for dinner requests is Monday 9th April 2018
Please note that on the 17th there will be a separate internal PETRAS event running in parallel for ALL PETRAS academics - you will receive an invitation to take part in that as well if appropriate. For those of you who have been invited to both events (and you will know who you are) please SIGN UP TO BOTH. We will ensure that the agendas are designed to enable your participation in both
We will be circulating an update in due course with the agenda and any further information on the event